An interview with Andy Van Zee, Investment Broker, Knapp Group – Senior Housing Advisors, Marcus & Millichap
An interview with Andy Van Zee. In this interview, Andrew Dick interviews Andy Van Zee, Investment Broker, Knapp Group – Senior Housing Advisors, Marcus & Millichap. Andrew sits down with Andy to talk about senior housing trends.
Andrew Dick
Attorney, Hall Render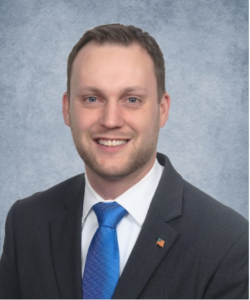 Andy Van Zee
Investment Broker, Knapp Group – Senior Housing Advisors, Marcus & Millichap 
Andrew Dick: Hello, and welcome to the Health Care Real Estate Advisor podcast. My name is Andrew Dick. I'm an attorney with Hall Render, the largest health care focused law firm in the nation. Today we'll be talking to Andrew Van Zee. He is an investment broker with Marcus & Millichap. In particular, he works in their senior housing group. We're going to be talking about his background in the industry, how we ended up where he is at today, and then we're going to talk about seniors housing in general. Andy, thanks for joining me.
Andrew Van Zee: Hey, thanks, Andrew. Appreciate being able to have this opportunity to talk with you about this.
Andrew Dick: Andy, before we jump in to trends in the industry, tell us about yourself, where you're from and where you went to school and what you wanted to be when you grow up.
Andrew Van Zee: Absolutely. So I'm originally from small town, Prairie City, Iowa, just East of Des Moines. I grew up there. My family still all lives there. I'm currently in Indianapolis with my family, my personal family, and went to undergrad, South Dakota State, wanted to kind of get far enough away from my parents that I couldn't drive home on the weekend. I got a political science degree at South Dakota State and originally thought that I was going to get into politics. Did a lot of the grassroots politics route, multiple campaigns working with one of the national parties for several years to a point where let's just say I ended up on the wrong side of the ticket and needed a little bit of a change. So I went to law school thinking that I was going to end up back into government or politics of some sort, but the Lord had other plans.
Andrew Van Zee: So I went to Thomas M. Cooley Law School, which is now Western Michigan up in Auburn Hills, Michigan. I met my wife at that time. We got married. But she was a Hoosier. So after graduating, we moved down to Indiana, where I found myself working in-house for a major skilled nursing developer and was really introduced to the senior housing industry through that timeframe doing a lot of work specializing in the certificate of need laws. I applied for a certificate of need applications in states across the country, as well as just kind of going through some of the licensing process for our group to be able to continue to grow and expand and was introduced also to some awesome operators during that timeframe, a lot of the people who we were directly in partnership with on new deals or just kind of consultants along the way, a lot of great people in this industry that when I moved on from that position, I started to do some on my own in the world of certificate of need.
Andrew Van Zee: I did a few more projects notably with a major hospital health system actually back in Iowa. Through that timeframe, real estate, that development aspect of being able to see this industry grow and be a part of that is what brought me back to or brought me to Marcus & Millichap. We had networked with them throughout the timeframe when I was doing certificate and need, also looking for beds. Jim Knapp, who is a part of the Knapp Group Senior Housing Advisors within Marcus & Millichap, the team that I'm now associated with, I had called upon him back in 2015. When I joined Marcus & Millichap, it was just a great landing spot to be able to build upon some of the knowledge that I currently had, but also be with a great group of senior agents within the firm to be able to launch and grow outward from there.
Andrew Dick: So thanks, Andy. That's a very interesting career path, what you and I have had the chance to work together over the years, and I've always enjoyed working with you, and I've always thought of you as an expert in the long-term care space. When I heard you landed at Marcus & Millichap, I was personally excited for you. It's a great platform and a great organization. Before we dive into some of the what's going on in the industry, Andy for our listeners, tell us about the senior housing industry and how you break down the different asset types. I typically think of senior housing as skilled nursing facilities, assisted living, et cetera. But be more specific for maybe those who aren't familiar with the different asset types.
Andrew Van Zee: Certainly. Well, let me touch a little bit about that and Marcus & Millichap, even the platform that I'm with. So Marcus & Millichap is a full service real estate brokerage company that we only specialize in investment sales. But each agent has their own product type, I should say, that they have really drilled down into and try to become experts within. So within senior housing, we really focus on skilled nursing assisted living, independent living, memory care, and CCRC products that obviously would encompass all of those other four components onto one campus. We only focus on real estate. However, there is times when we do come across home health companies that will be connected with an operator's skilled nursing business or a senior housing business in some way or another, and we will work with those as well. But primarily, from our platform, we are really focused on that core of skilled nursing assisted living, memory care, independent, and CCRC.
Andrew Van Zee: Medical office space is a separate group within Marcus & Millichap. So we don't really touch into that as well as a hospital and in those really high acuity dialysis or other dentistry, any of those types of medical type real estate components is now part of our group.
Andrew Dick: So your group is able to focus and really get into the weeds on valuation and what's going on in the industry is my understanding, Andy?
Andrew Van Zee: That's exactly right. We really try to become experts throughout Marcus & Millichap, but in the senior housing space, especially when it's different than any other type of… or I should say of the most real estate components, in which when you're selling the asset, the underlying real estate asset, most oftentimes you're selling the business with it, and/or it's a specially built property where the value is driven by the actual operation of that specialty, skilled nursing, assisted living that has been operated out of that space. So we really are unique in that format that we drill down in to understand both the real estate trends but also the operations. There's a lot going on, especially in the last couple weeks, months with COVID in the health care space in senior housing specifically that if we tried to cover all of health care, we couldn't be the experts that we really need to be for our clients.
Andrew Dick: So you mentioned COVID, Andy. I know that senior housing has been significantly impacted by the virus. What has that done, or what are you seeing in the industry as a result of COVID? Has it impacted occupancy? Has it impacted operations financially? What's it done to sale prices, et cetera? Give us kind of a broad overview?
Andrew Van Zee: Good question, Andrew. It's definitely had an impact. When we look at what has happened with COVID, it's had an impact just like any other real estate asset or any other business really. What's interesting about the health care is it's always been deemed one of those essential businesses. So the lights have always been on. Employees have always been coming to work. People are still getting care. Even unlike some of the medical office space where a lot of those elective procedures were put on hold or even telemedicine where you could go somewhere else. In senior housing, it's always been a truly essential part of the economy and a business that has continued to operate. From that standpoint, because it's continued to operate, it's been exposed to COVID in more ways than a lot of other industries, and therefore, there have been some negative press that's come about that exposure.
Andrew Van Zee: But it's really been six months now past the start of this pandemic. It's really been a really strong and resilient industry and a fun one to be able to kind of watch and interact with. By and large, I would say starting with the skilled nursing aspect of it, everybody that I have interacted with, every operator has taken COVID seriously on day one. There was a time where I was visiting some facilities before some of the mandates came out back in early March that weren't letting me. As soon as some of these just even scare started to arise, they were shutting the doors. I would say that that has been something that has been pretty consistent throughout that every operator that I would say has been in the business, and most operators in senior housing are truly in it because there's something more than just the operation of a business and collecting a paycheck. They want to care if there's a care component deep within them. They care for those residents that are inside their buildings. They've done a good job of containing it.
Andrew Van Zee: Now, that said, there's been a lot of change. So skilled nursing, obviously, the biggest impact right away was the shutdown of the electives seizures in some of the hospitals. If you had any sort of Medicare component to your revenue model, you weren't just a truly long-term care and relying upon Medicaid. You had an impact on day one. That was in terms of occupancy. So as occupancy goes down and you weren't able to continue to backfill those, definitely there's been an impact on revenue on day one. Assisted living seemed to be a kind of the next, the next group that was impacted, but it wasn't as immediate. They were affected more through attrition and/or just marketing efforts, kind of a mixed bag, and some of the trends have shown that really, it has been a downward trend on occupancy overall.
Andrew Van Zee: But when there was a run on supplies in March and April, May, there were some reports early on that those assisted living facilities that could market appropriately through virtual tours or just kind of quickly being able to change their strategy, we're actually seeing an increase in occupancy for a period of time as people were wanting to have more of a secure spot to be. Unfortunately, I think some of the negative press overall of mostly driven by isolation than today than the fear of an outbreak is assisted living and independent living because it is more of a choice to move into those types of facilities. They're having a slower recovery, whereas skilled nursing, once elective surgeries have picked back up, they have shown a stronger rebound, but it's also does come back to the quality of the operator. As a whole, overall, the industry occupancy wise, and income's all driven by occupancy in this category.
Andrew Van Zee: It is still has ways to go to catch up to where we were. But the plus side is there's been a lot of positive stimulus cashflow that has been pouring into the system from day one, starting with the PPP, but there was Medicare advanced payments. There were a lot of grants that are still now new grant money out there specifically targeted for senior housing operators who can develop or create isolation wings, whether that be brand new or converting still reimbursed for converting those spaces. There are been more reports now on skilled nursing specifically if there's been an outbreak, and they've had to isolate and shut down any part of the organization. Medicaid even is reimbursing some of that 14-day period of time for some groups
Andrew Van Zee: So I think the upside is the government as a whole recognizes that this is a strong industry, I think, that needs to… We need to take care of our residents. We need to take care of our seniors. I think it's going to be a really good setup for the future. This has always been an industry that has a very long runway, and we've always been very bullish when you just look at the aging of the population as a whole. New development has led the way I think on a lot of the growth and a lot of the change in the industry. But because of COVID and because of the focus on the quality of care, and especially in terms of isolating our residents and taking care of our staff, I'm seeing changes that I think will have some long-term impacts overall, that'll be good, even for the established business who maybe can't win the market share on day one because they don't have the newest and shiniest product in town.
Andrew Van Zee: Example, I've got an operator that I'm working with in Iowa, done a phenomenal job, kept COVID out of the building. It's an older property. But they were older in terms of it's not new within the last 10 years but has still kept COVID out of the building, has kept an isolation wing, always made available for new residents to be able to come into an artificially held occupancy low because of that so that they can have those excess beds open. As a result of that you know, some of these newer advancements that are coming out just recently of COVID testing units in the buildings, because of the focus on the care of residents and staff in this building and the quality that's been driven, this facility is one of 10 in the state that's going to get one of those first new testing machines in the building.
Andrew Van Zee: So I think that's what's going to be kind of the silver lining, I guess you could say out of all of this going forward is that people have been forced to change throughout this entire process, and they were forced to change very quickly. In the last six months, senior housing has done an amazing job of taking care of the residents and adapting with it through technology of virtual tours, through technology of just virtual meetings, technology of tracking the flow of visitors, but even down to just operationally shifting very quickly, delivering meals in the rooms. You get on social media, and you see countless videos or photos of innovative ways in which family members can still see their loved one in a facility behind a plexiglass wall or something that is… things we have never seen before. Obviously, we've never seen this pandemic before, but all of these changes I think are going to set up this industry for a very strong run in the future.
Andrew Van Zee: That said, I'm sorry for being long winded on your question, Andrew. But that said, because of all the stimulus, there's also been several groups that I think at the first quarter or first half of next year, we're going to start to see some stress fractures in the operations. Obviously, not everybody in the graduating class or the top of the class. There's always some that are just getting by. Those who are in this industry today, who have not adapted very well, and I'm not been able to either through a desire or lack of just ability economically or otherwise. I think that when all these stimulus opportunities start to wear off, and some of the cashflow that has come through that has artificially been propping up some of these groups, we're going to start to see some of those, the fallout that's going to come with that in terms of exchanges in the marketplace, ultimately sales.
Andrew Van Zee: Hopefully, it's not foreclosures or anything of that nature, but I think that we'll start to see a lot more transactions in the near future for those distressed assets than what we are today.
Andrew Dick: So, Andy, that was a great overview. I talked to Rich Anderson, who's an equity REIT analyst. He covers the publicly traded health care REITs for SMBC bank a couple of days ago. He was comparing skilled nursing to assisted living and independent living. He said most of the stimulus money has really flowed to the skilled nursing operators. Unfortunately, independent living and assisted living operators haven't received any funding and in most states. Has that impacted how investors look at the different asset types, Andy? I mean, I think you're you're right that a lot of folks I've talked to said, look, the federal health care programs are not going to allow skilled nursing to fail in most cases. But independent living, assisted living, they're kind of on their own. I mean, is that a fair analysis, or what are your thoughts?
Andrew Van Zee: Yeah. A good question. You're absolutely right. Short of the Payroll Protection Program and any type of advancements that was really more for assisted living that actually had employees working independent, depending on how involved you may have had from a staffing standpoint. Yeah, it didn't get a lot of funding. Didn't get a lot of help. I know there's been a lot of talk recently about possibly sending some money in that direction of future stimulus funds. From an operator standpoint, there's been a lot of groups that have… Well, let me take a step back. From a real estate standpoint, just in general, transaction-wise, everything was really put on hold, screeching, stop, in March. All properties that were on the market remained on the market. But our office, our group didn't list anything, didn't put anything new on the market for at least four and a half months.
Andrew Van Zee: That was really true of a lot of the brokerage companies that we've networked with or banks or anybody across the board. So there was a lot of money because of the uncertainty of what was to come that nothing transacted. When there were several groups that we were talking to in January and February who were looking at 2020 as a year in which they were wanting to acquire or sell, get out of the business altogether. So the fact that, back to assisted living this, this stimulus aspect of it of until we can actually have, even on these most recent conversations out of Washington is money coming to resonant. It's held back the flow of inventory on the market, number one. Groups that have seen a decrease in occupancy through this timeframe are afraid to take anything to market that their properties are going to be devalued accordingly.
Andrew Van Zee: For the most part, it's a very valid concern. The question really comes in is, how long can some of those groups last, and how long will it be before they recover, coupled with the lending aspect of it? A big piece of what we're seeing during that timeframe of close transactions, where right at the peak of this, we had the lowest interest rates that we've had on record in years, and refinancing and looking at new acquisitions as a result of that was a huge opportunity. Then that became unsteady, especially in this market. So we're starting to see the banks come around and those lending institutions come back on board, which is helping. But we're still not seeing on assisted living and independent living the occupancies really jumped back as quickly as skilled nursing is.
Andrew Van Zee: Because of that, we're not seeing as many groups who are willing to just jump into the game and transact as strongly. We have taken a property to market. Our group did within the last month. It was a CCRC that was mostly with no skilled nursing component, so assisted living, independent living, memory care. We did see some good market activity on it. Overall, I think that right now, there's a lot of pent-up demand in the marketplace. There is still a good opportunity where because there's nothing out there, and there are groups that need to be active to continue to survive and/or just wants to take advantage of a timeframe where there's not as much competition on bidding on properties. It's a little bit more of a buyers'… I mean, a sellers' market in that way with that pent-up demand. But we're still not seeing a lot of groups ready to jump into that yet, especially on assisted living and independent living because of potential stimulus money is still coming in and/or these occupancies that just haven't come right back yet. I hope that answered your question. [crosstalk 00:24:11].
Andrew Dick: No, that was great. That was great. You hit on a couple of points there. One was what the lending institutions are doing. Talk about the capital markets. If you're the owner of a senior housing facility, is it a difficult time to refinance? If you're a buyer, and you need some capital, how are the banks looking at the different asset types? Is it tough to get interest, or have prices went up for the cost of capital?
Andrew Van Zee: For the most part, I think the biggest variable right now that is looking at, how hard of a hit did you take on occupancy as well as just kind of the fundamentals, age of the building, what's your blended rate on your payer types? Financing's coming back. It definitely pulled back. Even though we had these bottom-of-the-market interest rates, lenders in senior housing were putting floors on those to try to cover some of the risks with the biggest fear being, is COVID going to get into your building and wipe everything out between time for closing and/or shortly after you close on it. Right? So that was the number one thing is we saw floors right away. Then kind of the loan-to-value ratio started to creep up, where you could have maybe gotten a 75% loan-to-value, you were down to 70. Maybe if it's an older building, 65.
Andrew Van Zee: So some of that amount of leverage that you can put on some of these buildings is definitely been scaled back from what it was at the beginning of the year. I think by and large, we're starting to see that banks are coming around and slowly more and more are getting onboarded. I would kind of liken the banks to what we're seeing even on a very macro level with some of the REITs. Some of the REITs on the recent transactions that we've had, the recent deals that we've had have been the more conservative bidders currently. We're seeing a lot more of the private equity or just private money in this space being more active in the bidding and in the aggressiveness of those bids right now in the last two to three months. I really likened that to kind of the way the banks are. They're institutional in that same fashion as the REITs. They're taking the longer look. They obviously are having to deal with imminent foreclosures that are now starting on other product types outside of just senior housing.
Andrew Van Zee: So as we can have more time from the beginning of this pandemic and more space, more data to show these lending institutions that senior housing is still a safe place. It's a very safe place to be, and there's a lot of runway. I foresee that we will continue to have greater access to capital. Even we were projecting that some time after labor day, that it would really start to look more normal. I don't know that we're normal in terms of where we were pre-COVID yet. But we are certainly getting back to it much like the rest of the country is, quite honestly, in terms of we have to move on. So is there access to capital, and a very short answer to your question, yes, there is. There definitely is. It may not be as highly leveraged. But the interest rates are still low. They've still remained the low, and it's still a great time to start to be looking at the future in senior housing.
Andrew Dick: Yeah. That was a good summary. I'll tell you what some of the experts I've spoken to remain bullish long term on senior housing, given some of the demographics that we've all seen in the news with the aging population. In fact, some of the… I talked to some folks who said they're looking forward to picking up more of the senior housing assets as things settle down. They just think that the demographics support long-term growth in the industry. Andy, would you agree with that and maybe also weigh in about, some of the critics have said there's too much supply?
Andrew Van Zee: Sure.
Andrew Dick: Specifically in the independent assisted living areas, but-
Andrew Van Zee: I definitely am very bullish on senior housing in terms of a solid investment, a good long-term investment. I think there's a lot of runway still here. I believe a lot of groups are believing that as well. We're starting to see it. Like I said, the Knapp Group within Marcus & Millichap, we've successfully put three properties on the market now within the last two months, and I'm actually getting ready to have a call for offers on a skilled nursing facility here in the Midwest next week, and I've had some very strong activity of groups, honestly of more groups that have not played in this region before that are looking to grow and expand their footprint. Long term, I think that there definitely is a great time still to even look at senior housing. Early on, within Marcus & Millichap, especially with the retail sector, the retail sector getting a lot of a lot of pressure and even into the multifamily sector. We're starting to look at some of the lockouts on evictions and the fear of people not making payments in the near future.
Andrew Van Zee: As we were talking to investor groups during the slow time for us as brokers, not the slow time for the industry as they deal with the pandemic, but the slower time for us, we were getting a lot of questions from groups who had never really looked at the space before wanting to see deals, wanting to know what's going on, wanting to understand it. To that end, it will continue to be a strong space for future growth. Just as you mentioned, there's a lot of baby boomers still that are aging. The aspect of what it looks like is changing overall. So when you say independent living, assisted living, what's that look like? Development has slowed, and there was a lot of development in that space, and you could argue that the industry was perhaps becoming over bedded in certain areas. But I don't really see that that was the case.
Andrew Van Zee: I think it was really certain markets. When you look at the country as a whole, there was obviously been a lot of development in certain metropolitan pockets, some of the hotspots just in real estate in general, Texas, Florida. Those two markets especially have had a lot of focus over the last several years, but some of the more tertiary markets, the secondary markets of the Midwest, the more rural Southeast, some of the West, the mountain region, been a lot of still growth out in those areas. Predominantly, that's where a lot of the population that is aging is aging in place. I think that what's going to take place out of this pandemic, what we can look to see is slower development in those categories. But we still have to have development in those areas just to continue to meet the oncoming future demand.
Andrew Van Zee: As far as evaluation is concerned, we have kept our valuations and our cap rates that we're applying to a lot of these properties that we're underwriting and listing steady throughout this entire pandemic. Most other brokers are doing the same. Appraisers are doing the same. I think that speaks volumes to this industry as far as where it's going as well as where the value even is today, even despite some downward pressure from occupancy due to the pandemic. Cap rates have not changed. In some ways, depending on the product type, I think you could argue that those investors, and I can't back this up a hundred percent yet, there's just not enough data of transactions yet, but in some ways, some of those investor groups who are transitioning over, maybe from multifamily housing over into assisted living or independent living, I think there's a possibility that some of those cap rates could even be driven down a little bit as we see capital migrate from different parts of the country or different sectors of the economy into senior housing.
Andrew Dick: All right, Andy. Tell us about the capital markets. Are lenders still willing to make loans to owner-operators to investors? How have the lenders and the equity sources reacted to the current state of the market?
Andrew Van Zee: Good question, Andrew. There's definitely money available. There's definitely capital flowing through the industry. By and large, it's starting to pick up it's. If we go back to the end of this pandemic back in March, we had record low interest rates across the board and a lot of refinancing, a lot of groups looking to acquire new properties as a result of that, and even some talk about, what are these low rates going to do to cap rates accordingly? Are they going to continue to be driven down with the interest rates? Unfortunately, the brakes were put on pretty hard during that point in time, starting with the banks putting floors on those interest rates, and then with that, also starting to scale back the loan-to-value ratio. So instead of possibly being able to get 7% leverage on a new product, a new property, you might be looking at 70, or in some cases, down to 60 and even 55%.
Andrew Van Zee: That seems to be where a lot of the pullback was coming from the capital markets was the amount of money that they were really wanting to go at risk for on a property. Most of that had to do with just the fact that this overall fear of what happens if we get COVID in the building, what happens if we have an outbreak, and we lose all of our occupancy, all of our residents, all of our income? For the most part, that has not happened. There obviously has been some hotspots, and those hotspots have made the headlines that have tainted a little bit of what we just previously talked about, where I think the industry has been and where it's going.
Andrew Van Zee: But for the most part, I think the further away that we get from the beginning of this pandemic, the more the whole country even starts to just get into what is the new normal. We're seeing on the lending side that some of that banking as usual is starting to come back into play. We were projecting that after labor day, we were going to see more of a normalcy in the capital markets area. I don't know that we can really say that we're 100% there yet across the board of what pre-COVID was. But we definitely are seeing lenders who are willing to extend capital and who are wanting to get into the game. When it comes to who are looking at deals right now, we as a group, the Knapp Group within Marcus & Millichap, we've now launched three new properties onto the market over the last two months and has some really strong interest in all the properties that we've put out there.
Andrew Van Zee: There's definitely some pent-up demand in the space. To that end, what we're seeing though, from those who are actually bidding on it, it seems as though it's the private equity, it's the private owner operators, it's those who are wanting to take advantage of this timeframe where they don't have to be bidding as heavily. I shouldn't say that, where they're more bullish overall on the marketplace. That's where we're seeing more the aggressive bids come in and aggressive to the point where we just had a property, a CCRC with a lot of skilled nursing beds up in the State of Maine. We had a call for offers on a couple of weeks ago, and we had over eight offers on the property, four of them at or above list. Those groups who were bidding on it were the private equity groups who were really pushing that envelope.
Andrew Van Zee: Some of the other properties that we are marketing right now, I've got one in the Midwest, a skilled facility in the Midwest, and I've got everybody looking at it again, the REITs, the private equity, local groups out of the region, and it seems to be following that trend a little bit more, that the groups that are more interested and a little bit more aggressive in their conversations up until this point are those in the private equity space. So there is definitely money to be had in those groups. I do take advantage of leverage through the capital markets. But from an institutional standpoint, it seems as though that those lenders, whether they were REITs originally or the banks, they were definitely conservative overall but are picking up again. There is money flowing back in the industry, to answer your question.
Andrew Dick: It's good to hear. I think as real estate professionals, we always worry that the capital markets will slow down, and the lenders and the equity sources will hit pause. But I think what you described is what I've experienced as well. I think we're starting to… Well, we've continued to see activity, but we're seeing even more activity over the past few weeks as everyone starts to realize that this is the new normal. Andy, let's switch gears. When I've talked to you in the past, we've talked about trends in the industry, unique concepts that some of the operators have launched, whether it's a lifestyle type center or a high-end independent or assisted living facility. What type of trends are you seeing like that in the industry, and do those type of products tend to… Are they attractive to investors, or how do the investors react to those kind of niche product types?
Andrew Van Zee: Good question, Andrew. I would say probably that there's no… So everybody's looking for the silver bullet, that one product you can continue to punch out over and over and over again. It's going to be the home run every single time. I always chuckle a little bit when I kind of hear some of those types of conversations thrown around a little bit because there's not one type of housing products on the regular housing across the country. We are dealing with housing. It's senior housing. But it's ultimately still housing. From a niche aspect though, I think that what has been growing and something that is honestly in a little bit of an interest to me, so maybe a little biased when I say this is I really think that some of the smaller facilities that the small house design, the greenhouse design, those types of concepts are going to continue to grow across the country, especially as we look to the more affordable concepts that Welltower has been pushing quite a bit, trying to find solutions for.
Andrew Van Zee: Some of the bigger investment groups are wanting to look, shift a little bit of their focus to, what's sustainable? What's a sustainable model, and what's sustainable in the country long term is getting to that middle class or even, in some degrees, the lower class that are aging at the same rate as the upper class? So some of these smaller types of concepts I think are very attractive for somebody who wants to move into those parts of the country, that middle America, if you will, that traditionally would be overlooked because you can't plop down a 180, 200-unit facility right there. Now, that said, our cities are also growing. There's still a lot of growth that needs to continue to happen on a large scale and some of the cities. I think that when you start to look at more of the metropolitan areas and you start to see some of the, let's just call it an evolution of the villages down at Florida, ultimately, right, that was a very innovative concept of creating a community around a single age group. Senior house is always trying to create community.
Andrew Van Zee: How do you do it? How do you do it in a unique way? I think the wellness center and the intergenerational approach that is starting to pop up, not everywhere, but here and there I think is also becoming more attractive as you start to get into areas where maybe you have a lot of other box assisted living or independent living structures in your market area, and you want to create that niche. What's one way to do it? I know obviously, a lot of groups have been talking about the wellness model of, how do you incorporate a true wellness lifestyle into it so that you can age in place?
Andrew Van Zee: I really see it as more of an evolution of what the CCRC model started out as, as a means for somebody to age in place, but taking it a little bit further and focusing more on wellness. So there's a couple of unique developments that I've seen over the past several years. There's one of them in the Midwest where they really focused a lot on the intergenerational aspect of a community with it still being anchored as senior housing, incorporating a wellness center that would allow moms and daughters and grandkids to come in and do yoga classes together or the culinary aspect of having a restaurant, a really good culinary staff that's quite honestly more open to the public to get a restaurant style dining that's true restaurant style, open to the community, flowing through there.
Andrew Van Zee: So I think there's still going to be niches and growth in those types of categories. From an investment standpoint, bigger is always better. Economy of scale is always better. So early on, as those groups are looking for those niche markets, I think, I think that the long-term investment is still probably better for a larger project versus some of the greenhouse model, unless some of the greenhouse style products can be coupled with a portfolio or on a campus, where you have multiple buildings on the same campus, and maybe one of them is memory care. Maybe one of them is assisted living, and maybe one of them is a skilled nursing component and so that you can still create that economy of scale from the operational standpoint. So as we get back to the very beginning of our conversation, I think that the number one thing that's holding that model back from going large scale very quickly as a lot of people are very interested in it.
Andrew Van Zee: A lot of people are very interested in, I think, and are looking at it is just operationally, how do you make it efficient when you are doing one building at a time in places? So when we start to get some scale and a tipping point of those facilities out there and the operational expertise of knowing how to run those, I think that's a very unique model that hasn't had its spotlight to the extent that it probably should yet, especially in terms of investment.
Andrew Dick: Yeah. The greenhouse model is something I'm very interested in. In fact, I talked to Susan Ryan a couple of days ago from the greenhouse project, and hopefully, we're going to have her on the podcast soon, a very interesting concept, and it seems like it's performed very well during COVID in terms of… In some cases, the greenhouse model has almost a zero infection rate.
Andrew Van Zee: Absolutely. I think-
Andrew Dick: But again, you're right. Smaller scale. Some investors say it's too small, right, to really pique their interest. But yeah. Andy, let's switch gears. You've been in the business for quite some time at this point in the senior housing business. What advice would you give to someone who's new to the industry looking to meet folks and learn about the industry? What advice would you give someone in that position?
Andrew Van Zee: Yeah. I think the number one thing, if you want to move into senior housing, you have no experience. Maybe you've heard about it, maybe just happened onto a podcasts like this one, Andrew, and you hear that it might be a strong area to invest in. I would say there's an acuity spectrum that we talk about in the industry and starting at the hospital and then working its way down to independent living. Of course, in our focus of senior housing, we start that acuity spectrum of skilled nursing and work your way down. For somebody who's coming in, I think if you have no experience at all in the service, it's actually provided inside some of these buildings is to learn about that and learn about those different acuity levels and really start to understand what the differences are in licensure, what the differences are in staffing, what the differences are on reimbursement.
Andrew Van Zee: A lot of these things, especially at the upper end, at the skilled nursing end because there's so much government reimbursement that comes out of it. A lot of this, you can actually find out if you're diligent enough. You can do some of your research on those types of reimbursement things and licensing on your own. It comes down to the economics of the lower acuity, the assisted living, maybe the memory care, the independent living that you need to network. You need to find somebody who's doing it. There's plenty of good groups out there that you could get in touch with to learn more about it. Contact a local broker. I mean, that's probably one of the easiest ways. We're real estate brokers. But I'd call ourselves the Knapp Group Senior Housing Advisors of Marcus & Millichap. We're advisors predominantly for those who are already in the industry.
Andrew Van Zee: So find a local broker that is maybe willing to spend some time. But be serious. Don't waste anybody's time as well. There's a lot going on in the industry. To be able to find somebody who can be able to really share some of the details with I think is important as long as you're sincere about it and as long as you're serious. That said, senior housing has been around for quite some time, and there's starting be, I think, an evolutionary shift internally just from the age of management, the age of operators who are out there. There are a lot of smaller groups that are retiring or moving on and/or handed the Baton on to the next generation internally, and that leaves us with a lot of mentors, a lot of sages that have been through it before and a lot of opportunities to just be able to grab a cup of coffee with somebody.
Andrew Van Zee: I've done that many times both starting out as an attorney in this industry, but then also as a broker, just wanting to continue to learn and grow my craft as well as don't be afraid to reach out and ask somebody a question. I think that everybody in senior housing that I've encountered for the most part loves people. They love working with people, caring for people, serving. There's so many servants hearts in this industry that if you are sincere about wanting to know, and you want to know for the right reasons, you don't just want to know to come in to make a buck, but you want to make a difference, there are plenty of people to be able to get to know. But learn the industry first. It's not the same as any other just real estate investment class.
Andrew Dick: Agreed. Agreed. Well, that's good advice. Andy, where can our listeners learn more about you and the Knapp Group?
Andrew Van Zee: Yeah. No, thank you. In two ways. The easiest way obviously is going to be going directly to either our website within Marcus & Millichap, kgseniorhousing.com, K as in kite, gseniorhousing.com, and/or just going directly to the Marcus & Millichap website, and you can eventually find this that way. It's just marcusmillichap, marcusmillichap.com.
Andrew Dick: Well, Andy, thanks for joining us today. I want to thank our listeners as well. On your Apple or Android device, please like or rate our podcast. We also publish a newsletter called The Health Care Real Estate Advisor. If you would like to be added to that list, please email me at adick@hallrender.com.