An interview with Connor Siversky, Research Analyst, Real Estate, Berenberg Capital Markets
In this interview, Andrew Dick sits down with Connor Siversky, Research Analyst, Real Estate with Berenberg Capital Markets to talk about publicly traded healthcare REITs.
Andrew Dick
Attorney, Hall Render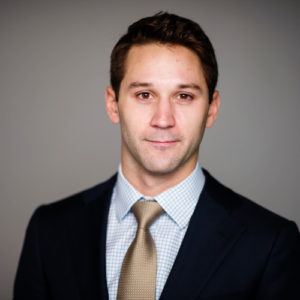 Connor Siversky
Research Analyst, Real Estate, Berenberg Capital Markets
Disclosures:
• BCM is making a market in Ventas (VTR)
• BCM is making a market in Medical Properties Trust (MPW)
• BCM is making a market in Omega healthcare (OHI)
• BCM is making a market in LTC properties (LTC)
• BCM is making a market in Caretrust REIT (CTRE)
• BCM is making a market in Healthcare Realty (HR)
• BCM is making a market in Healthcare Trust of America (HTA)
• BCM is making a market in Physicians Realty (DOC)
• BCM is making a market in Community Healthcare Trust (CHCT)
• BCM has no company-specific disclosures on Alexandria (ARE)
• BCM has no company-specific disclosures on Welltower (WELL)
• BCM has no company-specific disclosures on Healthpeak (PEAK)
• BCM has no company-specific disclosures on Sabra Healthcare (SBRA)
• BCM has no company-specific disclosures on National health investors (NHI)
• BCM has no company-specific disclosures on Global Medical REIT (GMRE)
Andrew Dick: Hello and welcome to the Health Care Real Estate Advisor podcast. I'm Andrew Dick, an attorney with Hall Render, the largest healthcare focused law firm in the country. Today, we are speaking with Connor Siversky, a REIT research analyst with Berenberg Capital Markets. Connor currently covers nearly all of the publicly traded healthcare REITs, which gives him a unique perspective on the healthcare real estate sector. We're going to talk about Connor's background, the different healthcare REITs that he covers, and a variety of other healthcare real estate topics. Connor, thanks for joining me today.
Connor Siversky: Thanks for having me, Andrew.
Andrew Dick: Connor, before we jumped into the discussion, talk about your role at Berenberg Capital Markets and your background.
Connor Siversky: Yeah, sure. I was born and raised in New Jersey, town of Montclair. Stayed in the state, went to Rutgers New Brunswick as an undergrad, got a degree in finance. And then I think in the fifth grade I said I wanted to be an investment banker ski racer, so I think I got pretty close to one of those goals.
Andrew Dick: How did you end up at Berenberg Capital Markets? It's an interesting niche covering healthcare REITs.
Connor Siversky: Yeah. For sure. For sure. I took a bit of a backdoor to get into the securities business. Immediately after college, I was doing construction. There was a little ferry New Jersey based GC called Mobile Construction. We did all sorts of projects throughout the state, a lot of municipal work. Incredible learning experience to see how those boots all work on the ground. And then I moved to a property manager called Solstice Residential in New York City. I was on the special projects team there. We had an excellent boss and mentor, in some respects. His name was Ken Lupano. We did a whole slew of projects in and around the borough, so Local Law 11 projects, roof replacements, facade replacements, leak repairs, all sorts of things like that.
Connor Siversky: I got to see a lot of different parts of the city, whether that was from the roof of 220 Madison Ave or maybe on the trains going to the different boroughs. It was a very interesting experience as well. Around spring, summer 2018 I got a recommendation from a buddy I actually went to college with and took on the associate role in the real estate team at Berenberg Capital Markets. Definitely a bit of a learning curve coming from the construction side of things, but some aspects of training fell in the right direction. It wasn't very long turnaround before we were writing notes, building models, and all the things like that. It definitely helped that the lead analyst on the team, Nate Crossett, he's still there today, extremely knowledgeable in remodeling and equity research in general. He was a ton of help in my development as an analyst.
Andrew Dick: And so how did you get the responsibility of covering healthcare REITs? Pretty narrow niche.
Connor Siversky: Yeah. It was a pretty fast turnaround, too. Nate had started covering the data centers, and then he moved on to the net lease group. He was up to capacity pretty quickly. And right around April 2018 or 2019, sorry, I think I had gotten the mandate to cover the healthcare names. Right after the first level of the CFA that June, I pretty much spent the entire summer working on the initiation report and launched on the eight names September 2019.
Andrew Dick: Got it. And for the listeners that aren't familiar with how firms like yours review REITs and provide recommendations, how does that work in layman's terms?
Connor Siversky: Typically, I mean, from start to finish, if we're initiating on a company, we'll read through all the 10-Ks, 10-Qs, the quarterly reports. We'll use the financials. We'll build out a financial model. We use a four pronged valuation systems. We have an AFFO multiple. We do a discounted cashflow with the AFFO out of 10 years. We do a net asset valuation, an appraisal of the portfolio at a point in time, and then a TV EBITDA multiple. Through the writing, depending on our opinions of maybe the intangible aspects of the company in conjunction with the valuation, we'll come up with our rating. And we do a traditional buy, sell, hold at Berenberg Capital Markets, so a buy and sell would be a 15% upside or downside, respectively, and then the hold rating is anywhere in the middle.
Andrew Dick: Got it. And right now you're covering most of the well-known healthcare REITs. I think when we spoke before, Connor, you said there's really only a couple that you don't cover. What are the two or three that you don't cover?
Connor Siversky: Yeah, so we covered pretty much all the healthcare REITs that I would consider really coverable. I think DHC would be the last one, and then there's another named SNR. Neither of those names have a lot of coverage, so those are ones that we've left off the table for now.
Andrew Dick: Got it. You're covering a pretty wide gamut of diversified healthcare REITs, and then a number of pure-play REITs, for example, senior housing, medical office buildings, some of those pure-play REITs, but you've got a lot to cover there. How many REITs are you really covering today? Is it 10 or 15? I mean, the healthcare REIT sector is pretty big.
Connor Siversky: The healthcare REIT sector, we have 14 names in the healthcare REIT sector, and then four more names, the smaller cap industrial REITs, which is something that we're going to be working on going forward as well. So, it's 18 total at the moment.
Andrew Dick: Got it. And so when you think about breaking down the sector, when you're talking to others in the industry, how do you break it down? I mean, I typically think of the big three that are diversified healthcare REITs: Ventas, Welltower, Healthpeak. And then there's all these other niche players. I mean, is that the right way to think about it?
Connor Siversky: Right. It's an interesting question because I think when you look at the healthcare REITs from an outside perspective, you want to lump them all together, but they're really quite different, right? So, maybe if I just run down the list here, you could start with the life sciences assets, laboratory space, biotech, pharmaceutical development. And the real name there is ARE, Alexandria. And you also have Healthpeak and Ventas, which are building out life science portfolios as well. Then you've got medical office buildings, so outpatient medical office buildings, surgery centers, things like that. HTA, HR, and DOC are really the dedicated names in that space. Healthpeak, Welltower, and Ventas, they have some MOB portfolios as well.
Connor Siversky: And then when you look at the smaller names, say GMRE and CHCT, they chase after some medical office buildings, probably smaller assets in secondary and tertiary markets where they're not really competing with those larger names. Of course, you have skilled nursing and senior housing. The important difference between the two of them, so skilled nursing is primarily funded by Medicare and Medicaid, right? The three main names in that sub-sector would be Omega (OHI), Sabra, and CTRE. And then LTC, NHI, they have SNIF portfolios as well. And then senior housing, again, there's an element of diversity within senior housing in itself, so Welltower and Ventas are really the biggest names here. The interesting element in those portfolios are the operating portfolios where the REIT is the owner and the operator in effect. Sabra has an operating portfolio as well. And then they also have the net lease portfolios as do Omega (OHI), CTRE, LTC, and NHI.
Connor Siversky: You also have hospitals. The only true player in the hospital real estate space, at least in terms of the public REITs, is MPW. They take a unique approach here, an international approach, to investing in hospital real estate. They've been growing very quickly over the past several years. Very interesting name to keep track of. And then I think, finally, again, going back to the smaller cap names, more diversified assets, surgery centers, ambulatory care centers, some medical office buildings, dialysis clinics, things like that, and that's where you'll find GMRE and CHCT. And these names are interesting. I mean, they're looking at these secondary and tertiary markets. They're finding higher yields than some of their larger peers do. And they're not really competing for those assets in primary market, so they can find higher yields. They have a better spread versus their cost of capital. And they've been growing very quickly over the past several years as well.
Andrew Dick: So, Connor, looking at all these different healthcare REITs, which ones do you find interesting right now in the world that we live? Which sectors are you focused on, or which rates do you really like right now based on the interesting world that we live in?
Connor Siversky: Right. The pandemic environment has definitely had a profound impact on healthcare in general and the healthcare real estate owners. There are a lot of different dynamics at play here. I think the names we like right now have an element of safety in them. For example, Alexandria (ARE), they have very strong tenants. Even though they can be grouped as office buildings, there's still an element of human interaction within those facilities. By and large, all of those facilities are open. ARE has done a very good job on leasing and growing the portfolio with a 1.3 to $1.6 billion development pipeline. That's one name we like a lot.
Connor Siversky: I do like the medical office buildings. Their share price has been depressed somewhat this year, so their cost of capital is a little bit higher. It's harder for them to generate growth from external opportunities when they can only manage, say, a 50 to 100 basis point spread against their AFFO. But, they're very high quality facilities. People are still going out and getting elected procedures. And for the most part, these names have been collecting all of their rents through the entire year, so you can definitely see an element of resiliency for the medical office buildings. Again, that would be HTA, HR, and DOC.
Connor Siversky: I like skilled nursing compared to discretionary senior housing. I think a very interesting name within skilled nursing is OHI. It's one of the larger names in the space. They have a huge reach in terms of who their operator tenants are. They have the best cost of capital among the skilled nursing names, so when the time is right, when it's prudent to do so, I would expect these guys to go out and start acquiring assets again and generate some external growth. Interestingly-
Andrew Dick: They've been around a long time. We've talked about that before.
Connor Siversky: Right. Right. They have been around for a long time. If I remember correctly, I don't think they've had to cut the dividend in either 17 or 18 years. And the management team has been in place for a long time as well. They're very clear with their messaging. They've done a great job managing skilled nursing assets, which is a very tough business to be in, especially in the current environment. And then one interesting takeaway there is that the skilled nursing operators have been the beneficiaries, of some degree, of government support through the pandemic. I would never want to say that they're completely out of the woods yet, but these are also portfolios that have been collecting high-ninety percents of their contractual rents pretty much every month.
Andrew Dick: Which is impressive. Yeah. How do you look at a company like MPW? We haven't talked about hospitals, but you made a point that, look, they're international, they've been growing significantly. I find the company to be really interesting. How do you react to it?
Connor Siversky: Right. I mean, I agree with you completely there. They're really the only name among the public REITs that are going after hospitals. And I think you can take into consideration that underwriting hospitals is quite difficult. I mean, from my understanding, you would have to go in there; you have to underwrite the patient flows to a certain degree; you have to have a familiarity with the physician groups operating in the hospital's geography as well. And also, who are your competitors within those markets? It's a very dynamic underwriting process. And I think MPW definitely has a bit of a strategic advantage of being able to underwrite those assets.
Connor Siversky: They've been growing very quickly over the past several years. 2019, 2020 in particular, they've done multi-billion dollars in acquisition for both years on an international scale as well: Australia, the UK, Switzerland, Germany. They're even going into Columbia now. They definitely have wide reach. They're definitely approaching the real estate space in general from somewhat of a unique avenue. And I would expect them … this year, I think they're going to continue to execute on external opportunities. And it's also worth noting, too, that hospitals, you can consider them, by and large, critical pieces of healthcare infrastructure. There's definitely an element of social and government support for those operators and those assets as well.
Andrew Dick: Yeah. Good point. What about diversified REITs?
Connor Siversky: So, the diversified REITs, I mean, you can look at this in two ways. Maybe we could say this is the big three that have MOB portfolios. They have their senior housing operating portfolios, the net lease portfolios, but, to me, I like to look at GMRE and CHCT for these names. They have a lot of smaller assets that they can pick up in these secondary, maybe tertiary markets throughout the United States. And through this business model, which I think is very valid, particularly in the current environment where REITs are coming down, they can acquire at seven, eight, in some cases, nine, ten percent cap rates. And the math just works out as such that GMRE and CHCT, I mean, they can generate 10% AFFO growth if they continue to execute on these opportunities, not withstanding any kind of tenant issues or something like that. But, for the past couple of years, they've been pretty stable in that regard.
Andrew Dick: Talk about the impact of COVID on the REIT industry.
Connor Siversky: There are a lot of impacts in a lot of different places. I mean, I think maybe we could rewind to late February, early March when the issue was really coming to a head when we all started to get eyes on it. I think the most profound impacts have been in senior care businesses. In terms of skilled nursing, I mean, you've seen the headlines all over the place. It's a very dangerous situation to be one of those more frail patients in this current environment. The impact has been felt there. Also, in senior housing I think one of the developments that really impacted the real estate fundamentals is that as the virus rolled inland from the coastal cities, it would force the state and the local governments to shut down admissions for these facilities.
Connor Siversky: There's always a background rate of attrition, as much as I hate to sound morbid, but when you combine that with admissions restrictions and also an element of fear involved in maybe enrolling into one of these facilities or maybe electing to go to one of these facilities as a senior citizen, the impact on the real estate fundamentals has not been good. When we look at the Q4 NIC map data dump that came out a couple of weeks back, you see both skilled nursing and senior housing occupancy is down approximately 10% across the board. Obviously, it varies in different markets, but when you're underwriting … let's just say, if you're underwriting a skilled nursing facility at 83% stabilized occupancy, and now you're down to 75%, I mean, that's a very profound difference in how the facility's cashflow profile looks.
Andrew Dick: Where do you the most opportunities, Connor, for some of the healthcare REIT sub-sectors as, hopefully, over the next six to nine months, we'll see some recovery as the vaccine is more widely distributed. Do you think that's going to help valuations? Are these REITs going to recover or is that already priced in?
Connor Siversky: I think for the time being there are still some headwinds at play. I mean, we still see that we're still getting an element … we're still seeing rising infection counts in a lot of locales. Vaccine distribution maybe hasn't gone as smoothly as we would have hoped thus far. I think safety is somewhat the name of the game right now. And I think if you're looking for yield, you can hide out in some of the skilled nursing names, such as OHI. If you're looking for stability of your tenant base, you can look at the medical office building names. And if you're looking for a combination of both, I think Alexandria is a very attractive option where you can get very strong tenants. You can also get internal and external growth, albeit at a bit of a premium valuation. As we make it to the spring and summer months, I think the dynamics will change somewhat.
Connor Siversky: If we can start to see a trough in occupancy for senior housing and skilled nursing, if you can start to see these REITs get more comfortable getting back into the external environment, then we can start to see a reemergence of AFFO growth. And at the moment, these REITs are trading at depressed valuations versus where they were before the pandemic. I think there will be a time when those options become very attractive again, but for now, for safety sake, I think you remain in a holding pattern for most of those names.
Andrew Dick: Yeah. I have one question, Connor. That's a great response. One question that we hadn't talked about is we have a pretty diverse group of healthcare REITs that are publicly traded. We're seeing some growth in these privately or non-public REITs. How does that affect the public REIT market in your opinion? I feel like we've got a number of these smaller, regional private healthcare REITs that some of the developers operate. Does that have any impact on the public REITs that you're covering? Is there competition for investment? What are your thoughts?
Connor Siversky: I'm sorry. You cut off at the beginning of your question there. Could you run that by me again?
Andrew Dick: Sure. So, Connor, what do you think about some of the private healthcare REITs that aren't publicly traded? Do those compete with the public REITs? I mean, we're seeing more and more developers and investors create their own funds or REITs. Is it one or the other? Are they looking for … How do you distinguish those private and public rates? I mean, what are the investors chasing there?
Connor Siversky: I mean, I think the reality of the situation is that any investor is going to be going after a high quality asset. When we look into our primary markets, whether it's a long-term thesis for senior housing, or maybe a shorter term play for something more stable in the current environment, like a medical office building, you're going to have more eyes on those assets. Without digging into too much specifics where we see maybe private equity funds with these private funds getting involved in real estate, I think the intuitive answer is that you see some cap rate compression. And in one sense, that'll benefit the revaluations in terms of the NAV. In another sense, if their AFFO multiples aren't increasing to a level where they can generate accretion based on their financing methods, then it makes it more difficult for them to grow. It's a bit of a double-edged sword there.
Andrew Dick: Great. Moving on to the end, we had a couple of questions. What advice would you give to someone who's just getting into the real estate business or the equity research business? You're still a relatively young guy. You've learned the business quickly. What advice would you have for someone who's starting out in the business?
Connor Siversky: Yeah. It might sound a little cliché, but I think the best advice is just to talk to as many people as possible and act like a sponge in that regard. In finance in general and equity research in general, there's so much to learn whether it comes from valuation or the narratives you want to push, or how stocks are traded or what kind of different funds or entities look at the stock. I mean, every time that we have a client call, or if I get on the phone with one of the corporates, you always try to take away a couple of key points that help expand your knowledge of what we're studying and what we're looking at. Ultimately, you can pick up a lot from reading a 10-K or a 10-Q, and we do that as well.
Connor Siversky: But, sometimes the best pieces of information will come from someone else or a message from someone else, or maybe asking to have a more clear or more detailed explanation for one of the dynamics that's coming into the market. And that could come from maybe one of our salespeople at Berenberg. It could come from an IR conduct at another company or maybe the funds come from. There are really, I think, a ton of different ways to just keep learning about the dynamics of real estate or healthcare real estate specifically.
Andrew Dick: Great. So, Connor, I know you're in the business of publishing research on healthcare REITs, where can folks find more information about you and your company?
Connor Siversky: Well, we are operating … I mean, as a broker dealer, the research, it goes to our clients specifically. It's not exactly publicly available to anybody who wants it. I would definitely recommend if anybody wants to learn more about the healthcare REITs, you always go to the IR websites. You can always take up … the supplementals are full of valuable information like that. In terms of help with the industry, I mean, there's always LinkedIn, there's always the Berenberg website, if someone wishes to have access to our research, but I can't exactly provide it myself like that.
Andrew Dick: Sure. Well, Connor, thanks for being a guest on our podcast. Thanks to our listeners as well. We publish a newsletter called the Health Care Real Estate Advisor. To be added to list please email me at adick@hallrender.com.