Creating a Brokerage Firm Exclusively for Health Care Providers with Colin Carr
An interview with Colin Carr from the Carr Healthcare Realty: In this episode, Andrew Dick interviews Colin Carr, the founder and CEO of Carr Healthcare Realty. Carr Healthcare Realty provides real estate brokerage services to health care providers.
Andrew Dick
Andrew Dick is a Shareholder with Hall Render in the Indianapolis office. His practice focuses on real estate transactions and environmental law. He advises hospitals and health care systems around the country on the planning, construction and development of new hospitals, medical office buildings, surgery centers and skilled nursing facilities.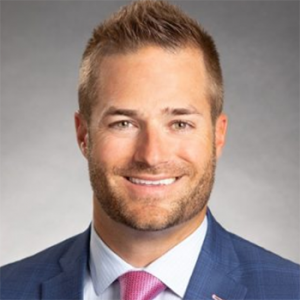 Colin Carr
Colin Carr is the founder and Chief Executive Officer of CARR, and invests his time and expertise into the professional lives of his staff and agents, systems and processes, and ultimately the representation of the thousands of clients that CARR has the privilege to represent on an annual basis. Colin has been involved in commercial real estate since 2000 and has personally completed over 1,000 transactions. He is a licensed real estate broker in ten states. 
Andrew Dick: Hello and welcome to the Health Care Real Estate Advisor podcast. I'm Andrew Dick, an attorney with Hall Render, the largest healthcare focused law firm in the country. Please remember the views expressed in this podcast are those of the participants only, and do not constitute legal advice. Today, we will be talking with Colin Carr. He is the CEO and Founder of Carr Healthcare Realty. Carr Healthcare Realty is one of the largest brokerage firms dedicated to representing healthcare providers when leasing space or buying buildings for their business. Colin, before we jump into your business, talk a bit about yourself, where you're from, and how you ended up where you're at today?
Colin Carr: Absolutely. First of all, I appreciate having the chance to talk with you and excited to share. I grew up in northern Michigan, upper Lower Peninsula, a little resort town called Charlevoix. It's in the Traverse City area. Lived there until I was 18. Moved to East Lansing when I was 18, and I jumped into the workforce right away. I was considering going to Michigan State or another university, and I got fascinated with business. Specifically, I got fascinated with real estate and I jumped right in. I started managing apartment complexes when I was 19 years old, and met a gentleman that owned about 13 different complexes in the Greater Lansing area. I started working for him, just apprenticing with him, and was fascinated with real estate. I worked for him for just under two years, and moved to Colorado when I was 20. Picked up managing apartments again in Colorado. I met another individual investor that I started doing a bunch of work for. Did that for several years, and then I got my broker's license when I was 23. That's what got me into actually brokering commercial transactions.
Andrew Dick: So, were you out on your own or were you at a national firm at that point?
Colin Carr: I started at a boutique firm when I first got my license. The firm that I worked with was just basically two other people. Their focus was exclusively retail. It was for large national retailers. Wendy's, Walmart, Blockbuster, large, notable retail tenants. Worked for him for a couple of years, got a great experience, great opportunity to understand the market, but I had a desire soon into commercial real estate to also work on office and industrial transactions. I made a switch at that point to a large, national firm that had an office and industrial focus.
Andrew Dick: Okay. You work at the national firm for a while. What type of transaction are you working on there? Office, industrial, representing landlords and tenants?
Colin Carr: Yeah. At the first shop, it was almost exclusively retail, landlord and tenant side. During that time, I also started just getting really proactive with cold calling. As a young broker, you can wait for the business to come in, you can put your sign in front of a building and wait for the phone to ring, or you can go out there and try to find deals. I got proactive early on and I literally started cold calling every day. I got excited about doing office and industrial transactions, and so when I switched to the large firm, I had a focus on industrial primarily. That expanded into office, it eventually expanded into medical office as well. I got a taste of some land, some investment realty as well. Within a couple years, i had pretty good exposure within a fairly broad segment of real estate.
Andrew Dick: When we talked before, Colin, you told me a scenario where, when you were at the larger firm, you're working with landlords and negotiating, for example, with I think it was a plastic surgeon. You quickly learned that when tenants aren't represented, specifically physicians or other healthcare providers, they tend to get taken advantage of. Talk a bit about that scenario?
Colin Carr: Absolutely. When you first get involved in commercial real estate, at least for me, if a deal moved I would chase it. I would go after anything I possibly could. I was going after any aspect of commercial real estate. After about five or six years, I settled in to where I was more focused on my business model, and I got more focused on healthcare. At the time, I was doing a lot of landlord work for owners of medical office buildings, and also several as well, that own medical office buildings. I was also doing a lot of tenant-buyer work, as well. I found myself in a considerable number of transactions where I was working for the landlord, and the tenant did not have any representation, and I found out real quickly how exposed those tenants were. I also had times where I was the agent of the tenant and they wanted to go look at properties where I also represented the landlord, and I found myself involved in a conflict of interest in a number of transactions.
Colin Carr: To your point, I had one transaction specifically where I was working for, it was one of the largest medical REITs in the country. They had two really nice office buildings in one of Denver's top suburbs. We were approaching a renewal for a plastic surgeon. The last couple deals we had done in the building were around the $24 per square foot range, and the asset manager out of Scottsdale asked me if the plastic surgeon had a broker. My response was no. He asked me if he knew the market. My response was no. Then he asked me, "Do you think the tenant's willing to move?" My response was no. His response was, "Let's go back to him at $29 a square foot."  My thought was that seems like a pretty steep increase. I get the idea of making the most of every opportunity, but my thoughts were that was a little over the top. My next questions were, are we going to give him any free rent? "Did he ask for any?" No. "Then, the answer is no." Are we going give him a tenant allowance? "Did he ask for it?" No. "Okay, the answer is no." So, I was looking at the transaction we had done a few weeks ago with an ENT who was represented at $24 a square foot, with a $40 per square foot tenant improvement allowance, with several months of free rent. Then, I looked at this transaction where the plastic surgeon had no representation, and it was a proposed lease for $29 a square foot, with no TI, no free rent. There was other concepts there, as far as not, and other aspects where the deal was going to be extremely unfavorable for that tenant. When I pushed back against the asset manager a bit … Again, I was working for him, but it just still felt a little egregious, his response was, "Get it done." He just hung up the phone. I just had a wake up moment there where I realized, look, it's great to make as much money as you possibly can on a transaction, but it would be a lot more fair if that tenant had representation that could protect them. It would hopefully, at that point, be a more fairly negotiated opportunity for both sides.
Colin Carr: I had a couple transactions similar to that where I realized that the tenants were substantially exposed and they were very intelligent people, they were good clinically, they were good medically. I think that most of them, their intentions were good, but they were outmatched very quickly going up against large, sophisticated landlords and listing brokers that knew what they were doing, and they didn't have a clue what they were doing. Yeah, long story short, over a couple month period of time I watched a handful of tenants get taken advantage of, in my personal opinion, or … let me say this. Negotiate very unfavorable terms, or just get stuck with the terms because they didn't know how to negotiate. I made a decision at that time to create a business model that was focused exclusively on representing tenants and buyers in the healthcare space. We launched that in February 2009.
Andrew Dick: Which is pretty unique. That model is, unlike some of the other national firms that are chasing the landlords, the REITs. You recognize that, one, you wanted to only be on the tenant side, or the buyer side, and focus on healthcare. There's also something else you and I have talked about, which is the fact that your team is willing to work really hard for physicians, and dentists, and veterinarians who maybe aren't going to lease 10 thousand square feet, they're going to do smaller deals. That's really in your sweet spot, right Colin?
Colin Carr:It is, yeah. Again, a lot of commercial brokers want to chase big listings, or if they are on the tenant or buyer side, they want the larger deals. That's just a focus and specific style of doing business. Our model was, if it's healthcare, we want to do it. The vast majority of healthcare transactions that happen are in the several thousand square foot range. We'll go down to 1500 square foot chiropractors or endodontists, but our sweet spot is the two to five thousand square foot range. Out of that comes a lot of additional transactions, and we're doing large deals. We do 20, 40, 50 thousand square foot deals on a regular basis now, but we treat the 2000 square foot tenant the same way that most brokers would treat a 40 thousand square foot tenant. Because of that, that's opened up a lot of opportunities for us.
Andrew Dick: So, at what point did you decide to go out on your own? When was that, when did you form Carr Healthcare Realty?
Colin Carr: So, over a handful of months I realized that the tenants and buyers in healthcare were not getting the focus and attention they deserved. Again, there was a large focus on the landlord side of healthcare, there was a large focus on the large institutional or large group practices, but there was virtually no focus whatsoever on the smaller, individual users. Over about a six month period of time I put together a business model. I approached the group that I was working with at the time, laid out what I believed was a viable business model, and their response was they didn't think it had the same merit that I did. They recommended that I go start my own company. So, I did just that. That was February 2009. Within a couple months, we added our first person, within a couple months after that we added our next person. We grew to a handful of brokers in Colorado. We did that for the first five years. Handful of brokers in Colorado. We did that for the first five years, just kept just building our platform, getting more comfortable with the transactions, getting more experience, figuring out better ways to help our clients. And then after about five years of doing hundreds of transactions throughout Colorado, we decided to expand outside of Colorado and go national.
Andrew Dick: And so today, about how many brokers or agents do you have, and how many offices?
Colin Carr: So we are licensed in just under 40 states now, and we have a agents and brokers in about 35 of them. And so we have just under 100 people total right now, coast to coast.
Andrew Dick: And what type of clients are you working with? So we've talked about physicians, dentist … But there's a long list of health care providers, right, that you're working with?
Colin Carr: Absolutely. So we do dental, medical, veterinary, optometry, vision, physical therapy, chiropractic … We also do a lot of senior housing as well, and so really anything that's healthcare-related. We'll do fitness facilities. We'll do health and wellness centers, med spas, but our bread and butter are the medical, dental, veterinary, vision concepts. And if it's health or wellness related, though, we're happy to help, and like having those opportunities.
Andrew Dick: So, Collin, when we've talked before, you said, "Look, we're typically representing buyers and tenants." What happens if one of your clients says, "I've got a building, Collin. I want to sell. Will you list the property?"
Colin Carr: Absolutely. It happens a lot because we specialize in finding facilities that meet our clients' needs. And sometimes those are individual buildings. Other times those are multi-tenant or investment properties that our clients purchase. So we help our clients buy buildings. Often times we'll help them … We'll bring other tenants to the building as well too. But we don't do any landlord or seller work. So if a client has a vacant space and they want it leased, we'll refer a listing broker to them. If they have a building, they want it sold, we'll refer a broker to sell the property. And the idea there is, yes, we're passing on some fees, but the importance is that we're staying focused and staying true to our core values, which are no conflicts of interest. So we refer a listing broker who comes in and sells the property or sells the asset, or finds a tenant for the space.
Andrew Dick: Talk about, for maybe health care providers that aren't in the real estate world like we are, who's typically going to pay your fee?
Colin Carr: So commercial real estate is very similar to residential real estate, in that the landlord or seller is paying the commission. Landlords and sellers set aside a portion of the commission, both for their agent on the listing side, but also on the tenant or buyer side to attract quality tenants. And so just like if you're buying a house, the seller of the house typically has a commission set aside for the buyer's agent. It's the same in commercial real estate.
Andrew Dick: Okay. Talk a little bit about the growth of the company. How do you explain it? It's pretty remarkable within a short period of time that you have offices across the country. You have nearly 100 employees. What do you think has been the secret sauce there?
Colin Carr: There's a couple things. One, just our business model. Our business model is predicated upon we help people that help people. Our focus is trying to help healthcare providers and physicians to find the best locations, and negotiate terms and economics that are equitable and fair to them. We're not interested in trying to take out landlords. It's not adversarial against landlords. It's just trying to protect the doctors. Unfortunately, commercial real estate, it's a market lease rate's the most that someone's willing to pay. And so when it comes to a healthcare provider that's not educated in the commercial real estate market, that's probably not prone to, or would not welcome, the conflict and confrontation that's inherent in a high dollar negotiation, they typically get taken advantage of and get folded in a negotiation very easily. And so our business model is predicated on protecting them, helping them find the best locations, helping them understand the market, helping them understand how the process works, and then ultimately saving them a substantial amount of time and money, and then also providing them a very tangible peace of mind, knowing they didn't get taken advantage of, knowing they didn't miss a good opportunity in the market, and that their location is where they're supposed to be. And so that model or that idea resonates with a lot of people that have joined us, feeling that they're actually having an impact and an influence on the clients that they're working with. So I would say just the overall model, our overall business plan of helping healthcare providers maximize their profitability through real estate, that's exciting. But I think most importantly, as far as how we've had the growth, is from our culture: how we treat our staff and our employees, how we treat our brokers, what our focus is. We've created an environment and a culture that is very, very healthy. It's counterintuitive rom how a lot of companies run, and it's a breath of fresh air for the majority of the people that are here.
Andrew Dick: Talk about that briefly. You said that your brokers and agents only work certain hours, and you try to preserve the time with family and friends. Talk just a little bit about that.
Colin Carr: Absolutely. So we have a set of core values that are very important to us that we don't stray from whatsoever. And it starts with just an atmosphere of integrity, and just creating an atmosphere in our culture where people know who people are. You don't have a work person, and then a family person, and then a friend person. It's the same people everywhere you go. So people operate with integrity. People operate with a spirit of excellence. We're not trying to push people to get out of balance with lifestyle, with family. We're all about working hard, but we have a very specific life/work balance. And we encourage our team and our staff, "Don't work the evenings. Don't work the weekends. Work it hard during the day, but you've got to preserve that time with your family." And so certainly there's times when you get pushed to go back and do some extra hours here and there. But overall, we encourage our team to rest, to take vacations, to enjoy the time. And we work really hard, but just like a professional athlete, they work really hard when they work, but you have to rest. You can't lift weights seven days a week. You can't play a season that lasts the entire year. You've got to work hard when you work hard, and then you've got to rest intentionally. And the more rested you are, the harder you come back and work. And so we protect our team's time. We don't have a lot of bureaucracy and red tape like a lot of large companies do. And there's a spirit of integrity, and there's a culture where people trust the people that are here. They trust the people that are making decisions that they're trying to build a company in an environment that's as healthy as possible. And we're also not building something because we have to pay out shareholders, or we have to meet Wall Street demands. And we're also not building something so we can sell it real quickly. And there's a lot of companies right now that have a good idea, or they have a good product or service, but in the spirit of trying to build something quickly to sell it, or trying to satisfy outside investors or Wall Street, they don't put their people first. They put the profits first. And so we run a company that's very intentional and with a very intentional culture. And it's certainly not going to be a fit for everyone, but it's been attractive to a lot of people that are with us.
Andrew Dick: Well, talk a little bit about the typical agent or broker profile. When we've talked before, it's not as if some of these folks are bouncing from a national brokerage firm to Carr. That may happen, but these folks are often … This is their first foray into real estate. Talk about that.
Colin Carr: Absolutely. So our model's unique. I'd never seen anyone doing what we're doing right now. We're the only commercial real estate firm that has a national presence that has a focus of tenants and buyers only in the healthcare space. So with that unique idea also came a unique approach to how we would build a team. And there's great brokers at a lot of different firms. We decided to take a different route, which was not trying to find brokers and convince them to leave one firm and come to our firm. Our model instead was, "Let's find people that have been very successful in other areas of business or other areas of life, and then let's teach them a very specific way of doing commercial real estate. And then let's show them how to be focused in healthcare. And so we have intentionally … We have a handful of people that used to be with commercial real estate firms, that you probably could count them all on one hand, but 95% of the people that are here have been successful in other areas. We have former CPAs, former teachers, former attorneys. We have people that have been in other sales roles, other advisor or service roles. We have a handful of people that have owned companies, and we've had people that have owned technology companies, healthcare related companies, construction companies.
Colin Carr: We've found people that have been successful in other areas of life that are good people, that have a tremendous work ethic, that are very intelligent, that are very savvy and street smart. And then we've given them the platform of how to be really good at commercial real estate and how to be really good at healthcare. And then we've built a platform where we have several people on staff that all they do is train, and support, and advise. And that's incredibly unique. I don't know of any commercial real estate firm in the country that has several people on staff full-time that all they do is answer questions. And so even if we open a new market, no matter what market we're in or how long that person has been with us, they're partnering with a senior broker or a managing broker that's overseeing every transaction that's involved in every aspect of the deal, who's been involved in hundreds and hundreds of healthcare transactions. In every aspect of the deal who's been involved in hundreds and hundreds of healthcare transactions. And so we have a platform and a training system that's unprecedented that I've never seen in any form of commercial real estate.
Andrew Dick: So it's interesting when we've talked before, you said one of the reasons you like starting with someone who hasn't worked in the commercial real estate industry is because it's a clean slate.
Colin Carr: Absolutely.
Andrew Dick: You can train them with your values and with your best practices. Talk just a little bit about that.
Colin Carr: Absolutely. Well, as in any industry, there's really good, and there's bad examples. There's great attorneys and there's bad attorneys. There's really good real estate brokers and there's really bad real estate brokers. Real estate's no exception to that. So we had a desire not to have to undo habits, whether they're good habits or bad habits. But the reality is the vast majority of commercial real estate brokers are landlord or seller focused. I've seen stats that are as low as less than 1% of commercial real estate brokers only do the tenant or buyer side exclusively. I mean that's extremely niche. So and then to go inside that even further and say, I'm only going to be on the healthcare side of that as well. So only tenant buyers is already a niche. And then getting inside just the healthcare, I mean that's pretty rare. So we just had the desire to start from scratch and not have to undo the landlord approach or the seller approach. And again, I mean we respect landlords, we respect sellers, but we're not looking for the next listing. We're not using the tenants as a chance to set up a lunch with the landlord as soon as that deal is done and ask them if they're happy with their broker, if they have any other assets that we could list or that we could manage or that we could sell. So our focus is helping our clients get the best terms possible, protecting them. And there's some conflict that's inherent with the high dollar negotiation. If your focus as a broker is, I want the landlord to like me so that in the future I have a shot at listing their property or their portfolio, you're probably not going to get your tenant the best terms possible, you're probably going to go a little softer or you're going to compromise a negotiation. And so our model is built on respect. It's built on trust, it's built on being an expert. But our focus is helping our clients and protecting them. So not having to retrain that with the broker or have them fall back on getting listings, we just wanted a clean slate to paint from, and it's worked really well for us.
Andrew Dick: So Collin, now that you're the CEO of a pretty large operation, how has your role changed? I mean not too long ago you were out chasing deals yourself. You may still do that from time to time, but how has your role changed? What are you doing with your time?
Colin Carr: So first of all, people ask me all the time, are you glad not to be doing deals? And my answer's no. I love doing deals. I've done over a thousand transactions personally, closed transactions, which means I've been involved in literally several thousand negotiations. I love doing deals. I love working for clients. I never got tired of it. And I think that's a testament to why we've been successful as well, as us going national or us or me personally having a shift in my day to day wasn't because we were burned out or because we were looking for the next thing. It was because we loved what we did and we love what we do. So I still help with transactions. I might talk to, I talk to brokers all the time. I'm touching dozens of deals all the time with our team. But the majority of my time is spent training our brokers and training our team, and in growing our brand. I've worked with a lot of large groups on a national basis. I do a lot of marketing, I do a lot of brand identification and that I've gotten a very healthy education in all the aspects of the company that you would expect if you're growing national.
Andrew Dick: So looking forward, what type of service lines or industries are you looking at to grow or exploring right now?
Colin Carr: First and foremost, we're going to stay true to the healthcare tenant buyer only. We're now in, we've got brokers in 35 states. We're just in our infancy, believe it or not. I mean we can take that wider and deeper and continue to keep on getting better and more proficient in that area. So healthcare tenant buyer rep is going to remain our focus and we are going to keep growing that the best we possibly can. We are doing a lot of senior housing work right now and so we're going to create a separate division that is just dedicated to the senior housing vertical. There's a lot of specialization inside that as well with memory care, with skilled nursing facilities. And there's a lot of things in there that are very specific that go beyond the type of transactions that we do for a physician or for a dentist.
Colin Carr: And so that's going to be a separate division for us. And then we also are creating another division that is going to be similar to the tenant buyer in healthcare, but it'll be tenant buyer in commercial. So it'll be the same focus of, a lot of smaller spaces. 2,000, 5,000, 8,000 square foot spaces for corporations, for commercial professionals. CPAs, attorneys, financial advisors, architects, engineers. And we're already doing a lot of those transactions. We go and we represent a dentist and she'll say, "My husband owns an engineering firm, would you help him with his office?" Or we go and do a veterinarian deal and they say, "My wife's an architect, can you help her with her office?" And so we're doing a lot of those transactions right now for the same reason, which is, people appreciate the idea of having someone protect their interest beyond their side. And they realize there's a lot on the line with a commercial real estate negotiation. And when they recognize that someone's out there that would specialize just on their side of the transaction and help protect them, that's very desirable for them.
Andrew Dick: So last question. Looking forward, where do you see the company in five years? Are you going to be 200 agents and brokers? 300? I know I'm putting you on the spot.
Colin Carr: Yeah, I think, I mean we're almost north of 100 right now and will be very soon. We're very intentional with how we're growing it. We're not just trying to add people. If we want to add people, we could literally be at 500 right now. I mean, we're trying to manage the growth. We're trying to find the right people. We want people that want to be here for 20 years. And so we're very intentional with how we hire, with how we train. But yeah, the short answer is I think we'll probably have, 250, 300 agents. I think we'll have three or four divisions that we're focused on. And again, just the commitment and desire to help protect our clients, help them maximize every transaction, help save them dozens of hours of their valuable time. We're not growing just to grow. I've said this for a long time. People say, "Are you growing this to sell it? What's the next step?" I'm doing this because I love what I'm doing and I believe in what I'm doing. And you could put a tremendously large check in my account tomorrow and it wouldn't change what I'm doing. It wouldn't change the house I live in, it wouldn't change the car I drive. It wouldn't change the amount of vacation I take. I've got a very good balance in my life and I'm doing this because I believe it's what I'm supposed to do. And I believe that I have the most impact and influence that I can possibly have in the area and the lane that I'm running in. And so you keep doing the best we possibly can to help our clients and add value. And when we do that, there's a lot of fulfillment and satisfaction that comes from it.
Andrew Dick: Great. Collin, thanks for joining us today on the podcast. Where can folks learn more about you and your company?
Colin Carr: Absolutely. So our website is carr.us. And from there you have a chance to jump into whether it's senior housing, healthcare, commercial, you can jump into your specific vertical, but that's a great place to learn about us. And it's got links to all of our social sites. We've got dozens of videos, we have a tremendous FAQ section, a lot of glossary stuff. So if someone's interested in finding out more about us, they can learn from there. And then we're big on just putting your money where your mouth is. Again, a lot of commercial real estate brokers, a lot of residential brokers. We'll go out there and work hard to get a listing and put a sign in front and the phone then rings from there. We hang our hat on every transaction that we do. So we pride ourselves on taking tremendous care of our clients and then that's how we grow our business. So we have hundreds of testimonials on our website from 1,000 square feet up to 50,000 square foot tenants. From individual location groups to have … from individual locations to groups that have literally a hundred locations. And we can provide hundreds or even thousands of references and testimonials from people that we've worked with recently. So our website's a great place to get more information.
Andrew Dick: Great. Thanks to our audience for listening to the podcast on your Apple or Android device. Please subscribe to the podcast and leave feedback for us. We also publish a newsletter called The Healthcare Real Estate Adviser. To be added to the list, please email me at adick@hallrender.com.