An Interview with Greg Gheen, President and Co-Founder of Realty Trust Group
An interview with Greg Gheen. In this interview, Andrew Dick interviews Greg Gheen, the President and Co-Founder of Realty Trust Group. Realty Trust Group is a national healthcare real estate firm that provides advisory, development, operations, transaction and compliance services.
Andrew Dick
Attorney, Hall Render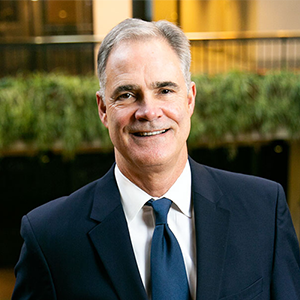 Greg Gheen
President and Co-Founder, Realty Trust Group
Andrew Dick: Hello and welcome to the Healthcare Real Estate Advisor podcast. My name is Andrew Dick. I'm an attorney with Hall Render, the largest healthcare-focused law firm in the country. Today, we'll be speaking with Greg Ghee, the president and co-founding member of Realty Trust Group. Greg is a seasoned healthcare real estate professional who started his career working for a hospital system, then decided to start Realty Trust Group, a healthcare real estate consulting firm which is an affiliate company of PYA, a national healthcare consulting and accounting firm.
Andrew Dick: Greg has a great story to tell. I've known Greg for a number of years and really admire the company he's built and he's a man of integrity, always enjoy catching up with him. We're going to talk with Greg about the state of healthcare real estate, where he sees opportunities in the future, and a little bit about how he started his business and how he's grown it to what it is today.
Andrew Dick: Greg, thanks for joining me.
Greg Ghee: Hello, Andrew. Thank you. Good hearing your voice and thank you for the introduction and the very kind words. I would also like to say about you, I appreciate our friendship over the years. I want to thank you for not only the opportunity to join you today and talk a little bit about our company but I also appreciate what you and your firm have done for the healthcare industry over the years and the thought leadership. As you know, Andrew, and what I'd like our audience to know is you're one of the go-to people that not only myself but other professionals at Realty Trust Group rely on when there's a question that is really complicated and complex before we call our client back with our opinion, we like to use you as a sounding board. So thank you for your friendship, professional and personal, over the years.
Greg Ghee: Now, as to your first question, I'm a product of where our corporate headquarters is located. I'm in Knoxville, Tennessee. I was actually born at the hospital where I work and I was born here and other than leaving for college, have spent my entire life here in East Tennessee. When I graduated from high school, I worked construction for a couple of years and I was a general laborer and also a brick mason apprentice. After a couple of hard, cold winters in East Tennessee, I decided that the classroom looked pretty inviting and so I went back to school at a community college called Roane State Community College. There, I studied and received my associates in business administration, and then following that, I went to Maryville College and Liberal Arts School, probably 30 minutes away from Knoxville, and got a BA, Bachelor of Arts degree in economics in 1983.
Greg Ghee: My first job out of college, I was a land-use planner working for the State of Tennessee and it was a great experience working in the regulatory side of land development and after spending two years there at the state in that job, I went back to UT-Knoxville and got an MBA in finance and new venture analysis and then my first job out of graduate school was with the local health system here and now, 32 years later, I'm blessed to still be working in healthcare.
Andrew Dick: Greg, it's a great story. I've known you for years but didn't have all this background information. I found it really interesting that you were a land use planner and then you started to work in the healthcare industry and talk a little bit about that because I think you started in the healthcare real estate business as it was taking off. Today, what we see in the healthcare real estate world is a very mature market. Healthcare real estate, in terms of asset classes, is a mature class, not as mature as some of the others but it's been around and it's well recognized but talk about how you stepped into your role working for a health system and helping that health system build out their real estate platform.
Greg Ghee: Okay, and as I think about my real estate career, I'll rewind a little bit and talk about that, the land use planning job that I mentioned earlier. I had actually written my senior thesis in college at Maryville College on the 1982 World's Fair and my thesis was what was the impact of the World's Fair and the government spending in infrastructure to prepare Knoxville to host the world coming here for the World's Fair, what was the impact of that on the local taxpayer? And that really got me interested in real estate infrastructure of how do communities prepare to welcome people and in that case, the real estate was for the World's Fair, which the World's Fair site is still very integral to Knoxville, Tennessee and I was very lucky to have a person in career planning and placement that helped me take that experience from my senior thesis and say you maybe really interested in working as a land-use planner. And so that's kind of how I got into the land use planning part of it.
Greg Ghee: And when I think about how my land-use planning prepared me to step into the shoes or into the job I had in healthcare when I look back on it, I think about the old adage that that may look good on paper as it relates to a development plan or a regulation but here's why it doesn't work in the real world and so, Andrew, that was so impactful on me in my career as it relates to what are the governmental entities and the policy decisions that are being made, how are they being implemented and how does that prepare you for healthcare.
Greg Ghee: When I came out of graduate school, so after land-use planning, two years in graduate school, and then I went to work in healthcare for Fort Sanders. In graduate school, when I came out, I was actually going to be a commercial mortgage originator for a large life company and that was in 1988 and there was quite a bit of real estate in receivership and vaguely do I remember having a candid conversation with my wife about another job offer I had that I ultimately took and that's how I wound up in healthcare. So, I would like to say that I can take credit for really planning out a very direct linear approach for getting into healthcare but the truth is and the fact of the matter is it was divine intervention. I was blessed that I just liked the people that I interviewed with at Fort Sanders and took that job.
Greg Ghee: And one of the things I've thought about as I've prepared my notes for today that I want to speak to if there are young professionals thinking about getting into real estate or in our profession, some of the things is one of the first things I want to mention is be flexible in your thinking and always be prepared for an opportunity that you didn't even really plan for to present itself to you and then follow your heart.
Andrew Dick: That's good advice, Greg. That's something I think we'll talk about a little bit more at the end of our conversation as well because I get a lot of questions from younger folks who are thinking about different career paths and seem to be intrigued by healthcare real estate and I often provide similar advice. So Greg, you get this opportunity to work for Fort Sanders Health, which I think you said is now Covenant Health, talk about that opportunity because you really got in at a time when the health system was growing and you were able to help the health system plan out it's longterm real estate strategy and execute on that strategy. Talk a little bit about that.
Greg Ghee: I would love to. Went there my first day of work at Fort Sanders, was June 28, 1988. So you can see, Andrew, I remember it. It was a great 10 years there and how I got there was through an opportunity in graduate school, along with two of my friends, Roger McFalls and Mark Fioravanti, and Roger's the one that actually picked up the engagement and then got Mark and I to help him. Roger and Mark and I put together a business plan on how to execute on real estate operations for a new ambulatory care campus in West Knoxville that was being built by Fort Sanders Health System. The ambulatory care campus was probably two to three miles away from a large hospital that, at the time, was owned by HCA. We ultimately bought that hospital in 1990 or '91 from them but we were going to compete in our market with ambulatory care services.
Greg Ghee: And so in 1988, Andrew, that was a very risky endeavor and we, Fort Sanders and Covenant Health to this day is still a not for profit with local board leadership and governance and they said this is a good model and let's pursue it and it really changed our community. But getting back to what we did in graduate school, we prepared a business plan, made a presentation and after the presentation, one of the executives there named Larry DeWine asked me to leave a copy of my resume and long story short, got to interview with Larry and others there. Larry offered me a job as a project manager for the outpatient campus. I accepted it and spent 10 wonderful years working with Larry and a lot of other people there at Fort Sanders and ultimately, it became Covenant Health.
Greg Ghee: That was probably one of the most impactful and productive periods of my career working with Larry and others and that's also where I met Ed Pershing, who's co-founder of RTG with other people back in 1998. So let me continue, Andrew, talking a little bit about that because there's some other things I wanted to mentioned as it relates to that ambulatory care campus. So, I was 15 years there and we not only grew the ambulatory care campus, it was 62 acres and it's still 62 acres but it's pretty much well-developed today and we worked not only on an ambulatory care strategy which was complementary to the acute care strategy, but they had a very robust … Fort Sanders had a very robust physician alignment strategy in place as well.
Greg Ghee: So, if you think about my career at the time, I was directly involved with acute care. I worked with the … Excuse me, I was directly involved with the ambulatory care. I had reporting relationships with the acute care, the hospital presidents, worked with strategic planning teams, the finance folks, the attorneys and many others to help grow that network that, today, is one of the more compelling networks in the East Tennessee Region compared to others, but it includes not only the Covenant Hospital locations but the ambulatory and the physicians.
Greg Ghee: One of the things that we did, and I just don't recall the exact year but one of the things we did is we helped the local orthopedic practice develop a facility for them to relocate and at that time, and this still happens today in certain communities, a lot of medical office buildings are beside the hospital or across the hospital. In Knoxville, in 1990, 90, and those periods were about the same. We helped relocate an orthopedic group that had been on the campus of one of our competitors onto the Fort Sanders West campus and that really changed not only the trajectory of what Fort Sanders and Covenant was able to do but it actually changed our marketplace because other physician practices saw that they were able to work at multiple hospital campuses and multiple hospital sites without being right across the street, if you will, from the hospital, and so that was very impactful and a great learning experience for me.
Andrew Dick: Greg, talk about that transition. So you worked for the health system for a number of years and then ultimately made a transition to starting RTG. How did that happen? How did that transition occur?
Greg Ghee: I had been invited to be a panelist on a national survey that one of the … I guess it was big eight, maybe big six back in the day was putting together and I had colleagues from across the country that were on this panel and I say panel, we provided a very detailed survey as to how we manage real estate and what was interesting is we were one of the few companies that domiciled our real estate operations in the for profit arm of the not for profit health system and I think that was one of the attractions that got the national accounting firm to want to include Fort Sanders in that survey. And so Larry DeWine and I participated in that and me directly and Larry indirectly and met a lot of people across the country and really became enthusiastic if you will about taking some of the things I've learned and experienced in doing at other places.
Greg Ghee: And I was being recruited away from someone and decided that I just wanted to stay at home and had an opportunity to stay in Knoxville and help start a company with my colleagues and partners at PYE and so we did that March 1, 1998 is when we stood up Realty Trust Group. What I think about when I think about those early days coming back to your question is really, I guess, what I brought from my experience to the company in addition to the great resources that PYE already had in place and Ed Pershings' experience but what I brought was really my experience working with physicians and understanding alignment of physicians and how important physicians as stakeholders are in all of your real estate decisions.
Greg Ghee: Secondly, I tried to always have a holistic mindset even today, 22 years after starting Realty Trust Group and 32 years after my first day of being in the business. I try to keep a holistic mindset about the continuum of care. I've already mentioned it a couple of times from the community and the ambulatory and physician and now, Andrew, we've got urgent care, we've got telemedicine. We've got a lot of other care models out there and so my holistic mindset has even broadened more. And then the other thing is thinking about the capital that's available and is necessary as far as growing healthcare real estate.
Greg Ghee: I'll tell you, I was a little spoiled coming from a large, well-positioned, well-funded, very successful health system and the balance sheet they had and I was a corporate vice president doing things only for Covenant Health and then when I transitioned into the company, Realty Trust Group, and going out and helping physicians do certain things, the first project we ever did was integrated three discrete physician practices into one LLC operating model and then helped them build a surgery center, a single specialty surgery center called Tennessee Valley Eye Center, we probably started that project in late 98 or early 99 but my point there is, what I've really learned now with RTG is how important capital is and the different sources of capital that are available for healthcare real estate.
Andrew Dick: Yeah, you're exactly right and there are companies that are out there just specializing and providing capital to healthcare real estate projects and it's become a very important part of the development process. Greg, before we talk about what RTG is like today, talk a little bit about the early days when it was really you and co-locating your office with some of the PYE folks. What was that like? I mean it had to be exciting. Talk about the early days a little bit.
Greg Ghee: Yeah, I appreciate it and I'd love to. I'm employee 001 for the company. Today, we have 91 employees across six different offices and so the first day I walked in, I don't want to leave the impression I was by myself, although I was the first employee at RTG because, as you mentioned, I was co-located in PYE and essentially part of their team and was able to leverage the infrastructure here and to this day, we're still co-located and do a lot of things together that really helps us leverage some fixed costs and other things. We're also co-located with PYE in Tampa and Nashville and so that model, from day one, continues to work today 22 years later and 90 employees later, and it's also really rewarding to be part of a larger enterprise.
Greg Ghee: Andrew, you're blessed to work with a big law firm, that's also very great and vibrant if you will to be able to talk to other people that are in different segments of your law firm as well and that's … I able to draw upon the other folks at PYE. We set up RTG from day one as a real estate company and under standards of practice of real estate and we are a separate company and not … And we are a separate affiliate company and not a subsidiary and I say that because PYE practices under AICPA standards. They do a great job across the board in strategy and attest and taxation and have a huge consulting evaluation practice but RTG is a separate, distinct real estate company.
Greg Ghee: We've been able to not only help PYE when they're assisting their clients where facilities or real estate or location services maybe necessary for PYE to bolt that on if you will to the delivery to their clients but the inverse of that has worked very well. When we're helping physician clients stand up new medical facilities and many times, we're a joint venture partner with them, we're able to bring tax services and we're able to bring strategic planning services that PYE offers to those clients that are coming to us for real estate.
Greg Ghee: And so, to your question, what was it like in the early days? In the early days, it was … And this is a true statement, it was on the back of a napkin that I had written out a few bullet points as to what the plan of attack and the business plan ought to look like. I have that napkin still in my jewelry box and with the PYE people and now the other people that have joined us and RTG over the last few years, we're able to still continue to execute on some of the fundamentals that we thought about in 1988.
Andrew Dick: So, Greg, what type of services were you offering in the early days? Was it consulting type services? Was it development services or all of the above?
Greg Ghee: No, we were offering advisory services and that's a great question and it's one of the things that when we talk to new clients, when we're talking about our company, we've grown our services following our clients' request of us or evaluating what the future maybe in our industry and then running to add those services and compliance is one of those that I'll talk about a little bit deeper here as I explain what I mean by that.
Greg Ghee: We were engaged very early on to help the health system in an advisory engagement go through due diligence for the acquisition of seven hospitals from HCA that was part of the 1988 divestiture and they sold I forget how many hundreds of hospitals across the country and PYE's client was picking up several … PYE had several clients but the one that I worked on specifically was in Tennessee and so we helped them with the due diligence which meant going through all of the leases, flagging anything that we saw that might not meet either an FMD or a commercial reasonable standard, flag those, bring them up to the internal legal council, which ultimately went to external legal and then once we helped them with due diligence and the acquisition was closed, to help them stand up a property management company.
Greg Ghee: So, Andrew, day one, we were pretty much advisory. Within a year, we were still an advisory and had gotten into the operations, what we call operations, it's property management. Within that year as well, we were asked to help those three physician groups come together and so we stood up our project management arm, which probably we only did owners rep/project management for the first four years and probably in the fifth or sixth year of us being around, we were asked to do our first [inaudible 00:23:15] where we were at risk and we built a cancer center for a hospital up in Virginia and owned that and then after a certain period of time, when they were ready to go to the bond market, we allowed them to buy that facility back from us and they aggregated it and took it to the bond market and so first was advisory, then project management.
Greg Ghee: And I want to tell you that part of the advisory did start us into the compliance and over the years, we had worked episodically on client engagements, helping with fair market value, rent studies, maybe giving opinion letters on acquisitions, working for either the board or the executive team before they were ready to either buy or sell either one asset or three or four, primarily, medical office buildings but before they were going to sell a portfolio of assets, is this a fair deal to the organization and so we did that quite a bit and then we did … This was one of the service lines where we really anticipated the emerging trend and the importance of having people that fundamentally understand real estate and Andrew, you know because you know us but 95-98% of our total revenue is healthcare real estate.
Greg Ghee: We have a few clients who we serve through relationships that are non-healthcare but we are a healthcare real estate advisory and services firm and so when we're doing any of the work in compliance, those people know that we're not out that morning doing a Walmart or a Target or some other food type of the advisory work. We are healthcare. Everybody in our company is working healthcare throughout the day but we saw PYE rapidly growing their compliance arm as well as it relates to valuation services and some of the other compliance/regulatory and so we decided to invest in our resources, people, processes and technology to significantly stand up a compliance, a real estate compliance arm and today, we've worked on some pretty nice projects. Most of those, we keep confidential but we've worked on some national level projects in our compliance service line.
Andrew Dick: So, fast forward to today, Greg, talk about how the business has grown, where you're located and new services that you're offering.
Greg Ghee: As I sit here today, we're in Atlanta, Greensboro, Johnson City, Knoxville, Nashville and Tampa. And I say that because we have plans for a couple of other locations and we have some people working with us on a contractual basis that may take us before the end of this year into a couple of other markets. When people look at our footprint, you can tell we're generally a Southeast company but we are growing our footprint. I think we've worked in 32 or maybe 33, it may be 35 states over the years and as I mentioned a moment ago, we have 90 employees and our services lines, our three primary service lines are as they were back in 89, advisory development, which is our capital projects and then operations, which is our property management and then the other two service lines that we have are transactions and the compliance and the reason I mention three primary versus the other two is the transactions is a function of what we're doing in our operations and compliance is essentially a function of what we're doing in our advisory work.
Greg Ghee: When you ask about our company today and maybe what makes us a little different than others, I have my own opinion and others, our clients have their opinions about us but what I hear when I'm asking our clients at the end of an engagement or a project why they selected us, one of the things that comes to mind to them quickly and it is repeated is the RTG difference. The first characteristic is we are healthcare. We are healthcare real estate day in and day out. A lot of people really appreciate the relationship, the affiliate relationship that we have with PYE because they know that we have additional resources to call upon if we need those and we also understand how to operate as a professional services firm, which PYE is as well.
Greg Ghee: And we also tend to do most of our work as objective advisors. We go over budgets and we go over fees and we go over scope of work with our clients on the front end and if there are any contingency or condition related aspects or tasks to that, we separate our work, our deliverable and our opinions from that additional work, and so many of our hospital clients appreciate the way that we do that but that also honors any relationships that they may have locally. So they want a healthcare advisor with a national footprint and national experience to bring them an objective, independent business plan or plan of action and if they need us to help them execute, we can do that or if they want to use something local to help them execute, we can certainly do that and that's always been part of our value proposition to our clients and also part of our delivery platform.
Greg Ghee: Then the second thing, Andrew, is our clients tell us just the breadth of our services platform, they don't have to go get someone else if they want to manage a project. If we've helped them with a site location and they want to put an urgent care center or something else there, their internal resources are stretched, they need some help, through a separate engagement, we can help them with the construction and the project management on that and they don't have to go get another firm and get them up the learning curve and everything is still under a very discrete engagement with them with the confidentiality and everything in place. So, I'll tell you the second is just the breadth of our services platform.
Andrew Dick: So, Greg, tell me about typical clients. You've talked about physician groups, hospital systems, what's the breakdown in terms of amount of work or revenue in terms of those different categories?
Greg Ghee: That obviously changes from quarter to quarter, although it stays within a bandwidth, a pretty close bandwidth. So, as I mentioned, around 95% of our work is healthcare and I would say 60% of that today and it could be 60-65% of our work today is through health systems and then 30-35% is physician groups and then there'll be 5%, could be 3-7%, there'll be a percentage there where we may be working with a banking client and that may either be an RTG relationship or it could be a client of PYE that has said we need some help from a real estate professional group on a new branch location, and so we do a lot of work with banks but it's interesting how closely aligned, when you're thinking about locating a bank branch or locating an urgent care center or primary care group, how important the real estate part of that is but that's generally it. About two thirds hospitals/health systems, one third physician groups.
Andrew Dick: So, Greg, let's switch gears a little bit and talk about the industry of healthcare real estate, because you've been working in the industry for a number of years, have grown RTG doing work all over the country, where do you see the industry going in the future, what type of trends are you seeing?
Greg Ghee: We are as busy today as we have ever been and in a moment, you and I may be able to talk a little bit about COVID, because that's certainly an area right now in history that's different for me and you and everybody else in this business but if we had had this conversation in January of this year or February, I would tell you generally about the same thing that I'm telling you right now, that we're very busy and I don't mean necessarily the volume of work as much as I mean the pace it's playing.
Greg Ghee: What I mean by that is we are doing a lot of work today and we've done a lot of work over our last 22 years and Andrew, this may be the same for you, so I'd kind of like to ask you this question when I finish but it seems that our clients, the pace of play and how competitive it is, not only in the hospital sector and whether you're working for profit or not for profit but even with physicians and venture capital coming in, the pace of play, how quickly they want to not only understand the plan and execute on the plan and know what the plan is and get the physicians aligned, that really is about as busy as it's ever been in my career.
Greg Ghee: As it relates to the healthcare real estate, I think we're a direct function of the healthcare industry per se. Is that everyone is just incredibly busy, even before COVID-19 came to us and I think, again, that's a function of intense competition, real competition, the first to market, to get their flag into a market subset, to make sure they're aligned with the doctors, that the physicians want to grow. They need to have a place to perform their procedures, to get their diagnostic tests taken care of. So they're also trying to take care of the doctors because they're trying to grow as well and then I also think it's a function of macroeconomic, I guess, demographics, if you will, of just the aging population and the necessary volumes that are happening and I'll tell you, this is anecdotally although I could probably present some empirical evidence to you, as you know, we're really transitioning from the acute care hospital environment to the ambulatory environment.
Greg Ghee: Most of our clients have already cross over the 50/50 threshold where they are mostly … I shouldn't say most. They're probably either 50/50 or 49 inpatient and 51 outpatient as far as their revenues and so that has also really quickened the pace as it relates to that and their facilities or building new facilities but the pace of play, is that how you see it, Andrew, with your clients?
Andrew Dick: Absolutely. I think it's interesting the way you described it as pace of play. The transactions just seem to be moving faster and faster, more compressed timeframes. We worked on a [inaudible 00:35:46] back transaction on the West Coast last month, helped a client close on four outpatient facilities and the timeline was I think three and a half weeks and there was a lot to do and I'll tell you, Greg, it can be really exciting but also very stressful as well. So, pace of play is a good way to describe it as things just keep moving faster and the industry's evolving and you really have to be on your game when you jump into some of these opportunities. So I think you're right.
Andrew Dick: Greg, you mentioned COVID. Because we're recording this really in the midst of COVID, a number of states have opened. Some still have stay-at-home orders. Some have opened and are now slowly rolling back their reopening plans. How has COVID impacted your work and what you're seeing in the industry?
Greg Ghee: Yeah, it's a very different time, Andrew, as a person and as a professional. A few things come to mind right off the bat. Fundamentally, I think it's brought a lot of well-deserved attention to the profession of property management and I'll say this not only about our people and it's more than just the people in our property management service line because our construction management people and a lot of people in our advisory service line are supporting others, so it's really about our company but I want to speak specifically to the people that are on the front line in our property management and I'll also broaden that comment because we work with a lot of different companies out there and we also have clients that are real estate investment trusts and they have property managers internal in their organization and other property management firms, so I want to extend my compliment and my respect to everyone in the property management arena, not just RTG.
Greg Ghee: But it's been very inspiring to see how integrated and essential our property management team, our people have been and continue to be to our hospital clients and other building owners during this time. I mean they are literally on the front line and so you think about an MOB that's on a hospital campus, could be connected to the hospital campus or it's off-campus but those doctors and those patients, it's critical and we've been considered, as you know, an essential service and so every day that they're open, we're open. We're there to make sure they're open. We're there to help with the traffic. We're there to help police the security. We're there to help make sure that the housekeeping and the additional sanitary conditions and cleaning and all of that is in place. We're there to answer the phone in the middle of the night when things are not going well.
Greg Ghee: So, again, it's not only the RTG team but everyone in this business. COVID, I think, is also really focused on the importance of technology. We're doing this podcast today, you and I talked earlier about how many team meetings we have and Zoom meetings. Technology, communication protocols and really broad-based communication, how do we communicate directly with a risk manager or an infection control expert at the hospital or at our REIT client, how do we communicate with them directly and then how do we communicate out to the public and how do we communicate out to the other tenants in our building and you all may, as a law firm, also see it and I keep up with your great advice coming out on COVID-19 and the impact on real estate. We follow you guys and appreciate you sending out that thought leadership as well.
Greg Ghee: And so I think it's not only drawing attention to what we do in the real estate/property management business, but I think it's also drawing attention to skills and I said technology a moment ago but the people skills and Andrew, you touched on it a minute ago when you mentioned the timeframe. There's no way to measure, although I think when we get past COVID-19 and we all look back, what percentage increase of our daily stress quotient that we've all put up with and some days, I am certain, I'm a believer that it has been beyond the 100%, many days maybe but it's really been something to watch and we try to be supportive of everyone in our company and I know you guys are doing the same thing there with your company but the other thing there is I think that will also enhance our people skill training and we use a term, our emotional intelligence, how you're taking care of yourself before you can help take care of other people and making sure that you're thinking about that as you think about what you do from the time you wake up to the time you finish at the end.
Greg Ghee: And then the last thing that I'll mention, Andrew, I know it's evolving but I think it will impact the design of buildings in the future, whether that's in materials and there's people smarter than me that'll be doing this but we work with a lot of great healthcare architectural firms across the country and I'm sure they're looking at that but they're also looking at how you enter and leave buildings. We talk about smart buildings all the time. We've talked about telemedicine. So I'm certain that it's going to have a big impact on really facilitated design moving forward.
Andrew Dick: Yeah, those are all really good points and I was writing some notes down as you were talking. I think COVID's going to have a significant impact on the push for healthcare systems to expand their outpatient network or their ambulatory network. I think you mentioned that earlier, Greg. That was really already happening but I think it's going to accelerate the pace of more outpatient development, off-campus development. Just a couple days ago, one of the major healthcare REITs published an independent survey of consumers where they asked consumers where would you prefer to have healthcare and outpatient facilities was where most of the consumers indicated they'd prefer to be treated, primarily because there's some fear associated with going to hospitals today as we live through COVID, but I think you're right, it's going to change facility design. I think it's going to change or accelerate, I should say, how some health systems implement their ambulatory strategy. So all really good points.
Andrew Dick: Greg, as we wrap up here, I've got a couple more questions for you. Where do you see the opportunities for the industry, for healthcare real estate professionals, give us a couple of thoughts there.
Greg Ghee: Well, I'm extremely bullish on the healthcare real estate industry. You could probably have guessed that but I love it as much today as I loved it 32 years ago and through divine intervention, I was able to go to work for Fort Sanders and as a young person or whatever age person, if they're transitioning into the healthcare real estate, I think there are opportunities across the continuum. I mentioned our service lines and our service lines tend to follow where the work is if you will but the one thing I would mention as they think about managing their professional career is to really develop an understanding of the patient experience.
Greg Ghee: While you and I are talking about ambulatory or acute care and then telemedicine, some virtual medicine, whatever term we want to use, that's still a patient experience and so if you want to understand the destination or what you're trying to accomplish, really seek to understand what the user is doing and we're all, at a certain time in our life, users of healthcare. It's important to pay attention when you go to your doctor's appointment and how you go through that process but I would say to really figure out a way to understand the patient experience and look at the different facilities, if you will, my oldest daughter who lives in Washington D.C., she's been in Knoxville for the last two and half months because of this pandemic but she's based in D.C. working with one of the big public accounting firms, she accesses her provider through a smartphone and then does FaceTime and I just get a kick out of that. I think that's just a mindblower.
Greg Ghee: We don't do much of that here in East Tennessee but I can see it coming quicker and again, pace of play, I think change will be even more rapid than it has been but no need to call and schedule that. She just does it online and it picks up the phone and there you have it. So the reason I segued from the patient experience, the individual has to …
Greg Ghee: You need to think about what it is for them, what it's like in the parking facility, where do they drop off their family member or themselves, how do they come in, how do they access the building but then also, what's the impact of technology going to be on that end user and then as most things in life, you triangulate, so it's end user, technology, destination to the facility and so I would just say as far as the opportunities in the industry, jump in anywhere you see it as far as construction all the way into management. I'm a big believer in first being an advisor, first be a consultant so you really have a broad based opportunity to do a lot of different things. So, I'm a big believer in the advisory side of the business but always keep in mind who you're serving, the patient.
Andrew Dick: That's good advice. Greg, we talked a little bit earlier on about what advice you'd give to someone who wants to get into the healthcare real estate industry. You talked about being flexible. What other advice would you have for someone who's interested in starting a career in the healthcare real estate industry?
Greg Ghee: It'd be great if you had a mentor or someone that … professional real that you can ask about what it's like to be in the healthcare real estate arena in our business. If not, there are different professional organizations where you can develop a network. I'm a member of CCIM. I'm also part of [inaudible 00:47:46] and lastly, Counselors of Real Estate and we have networks with people who can talk about different areas in real estate. You could also volunteer at local … I do a lot with our local United Way but you could also volunteer at one of the hospitals or something just to get a little bit of experience so to speak or a little bit of time with them but last thing I do, I read quite a bit, Andrew, and I'll mention just a few of these off the top of my head.
Greg Ghee: One of the thought leaders in our business is the Advisory Board, that's a subscription but you may be able to find some of their stuff online but the Advisory Board. Modern Healthcare is something out there that people could get and look at. Healthcare Design, but I would say kind of if a person is thinking about getting into, try to come into it through their real estate professional network one way or the other, through a professional relationship.
Andrew Dick: That's good advice. Greg, really appreciate you taking the time to chat with me today. I've enjoyed it. I too have enjoyed our friendship and getting to know you over the years. Where can our audience learn more about you and RTG?
Greg Ghee: Yeah, thank you, Andrew. Thanks again for the opportunity and good seeing you and be safe and pass that along to your other colleagues that I know and talk with up there. I've talked with you most of the time but in answer to your question, over the last couple of years, we've really made significant investments in our website and there's a lot of information on our website. Our marketing manager's name is Angie Surface and she does a great job of keeping up with our resources there. My email address is on the website, gd@realtytrustgroup.com. If you don't see any information on our website, you can either hit Angie on a link or hit me on a link and we'll get back to you.
Greg Ghee: And really do appreciate the opportunity to talk to you, Andrew, today.
Andrew Dick: Great. Likewise, Greg. Thanks to our audience for listening to the podcast on your Apple or Android device. Please subscribe to the podcast and leave feedback for us if you have ideas for future podcasts. We'd love to hear from you and like to hear those ideas. We also publish a newsletter called The Healthcare Real Estate Advisor. To be added to the list, please email me at adick@hallrender.com.